SIF Folio: Gulf Keystone Petroleum could be a bargain super stock
It may not be a fashionable view, but I like to have some oil exposure in my portfolios. I've enjoyed some decent profits from this sector over the years. I also expect oil and gas to remain an important part of the energy mix for several decades to come.

However, one company I wouldn't have expected to consider buying is Kurdistan-focused oil producer Gulf Keystone Petroleum (LON: GKP). This firm started out as a frontier explorer and was one of the early players in the Kurdistan oil sector. 
Back then, GKP was a bulletin board favourite with a charismatic American CEO. When the firm discovered the Shaikan field in 2009, the shares rocketed. But although development of the field was successful and production started in 2013, the company struggled to receive payment for the oil it produced from Shaikan. 
In 2016, Gulf Keystone nearly collapsed under the weight of more than $600m of high-yield bonds. However, replacement chief executive Jon Ferrier managed to persuade the firm's lenders that Shaikan would produce cash as well as oil. He secured a $500m debt-for-equity swap plus fresh cash for working capital. Existing shareholders saw their ownership of the company reduced to 5%, but Gulf Keystone lived to fight another day.
A cash machine?
Since 2016, payment issues have gradually been resolved while Shaikan's operating performance has been maintained. 
The firm's latest presentation shows 591m barrels of proven and probable reserves, with production running at about 38,000 barrels per day. Operating costs remain very low, at just $3.20 per barrel. 
Work is underway with partner MOL to increase production to c.55,000 barrels/day in 2020. 
Although Shaikan's sour crude sells at a discount to the Brent crude benchmark, the firm realised an average price of $49 per barrel in 2018. Net cash reached $191m by the end of the year and the firm made its maiden dividend payment.
The stock's fundamentals continue to look strong to me and it now qualifies for the SIF screen. With a StockRank of 93, Stockopedia's algorithms also take a positive view: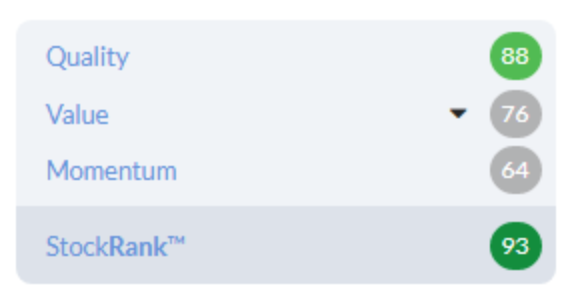 Since the departure of Total SA a few weeks ago, the SIF Fund has had no exposure to oil. This week, I'm going to decide whether to buy Gulf Keystone to address this shortfall.

…

Unlock this Article with a 14 day free trial
Already have an account?
Login here