SIF Folio: I think mining with BHP could still be profitable
For a number of weeks, FTSE 100 commodity producer BHP Group (LON: BHP) has been sitting in my Stock in Focus screening results. I have to admit that until now, I've avoided considering this stock for the SIF portfolio.

There have been legitimate reasons for this. Other suitable stocks have ranked more highly in my screening results, which are ordered by StockRank. The shares also overlapped with former holding Anglo Pacific, which I sold in August. But I've also had concerns about the outlook for the shares.
In general, I view BHP as an attractive stock to hold for the long term. It's diversified, with good quality assets and a strong tradition of dividends. Much of the group's asset base is located in developed markets such as Australia and the US, providing welcome political and regulatory stability.
In short, I think this Anglo-Australian giant is a great way for private investors to generate an income from a basket of commodities.
However, this is a stock that I'd prefer to buy during a full-blown bear market. That's not the case at the moment, leaving us with the difficult challenge of a mid-cycle valuation. This has been made even more difficult than usual by the ongoing US-China trade war.
Luckily, I don't have to make a macro call. My policy with the SIF portfolio is to focus on quantitative factors and (mostly) ignore macro considerations. 
I already know that BHP passes all of my screening rules. The next step is to take a closer look at the stock's Quality, Value and Momentum scores. If the results are satisfactory, then I'll add BHP to the SIF Fantasy Fund, regardless of what Dr Copper is saying (which isn't great).
Value: a fair price for quality?
BHP's ValueRank of 72 looks promising. But the stock's valuation tells two potentially conflicting stories: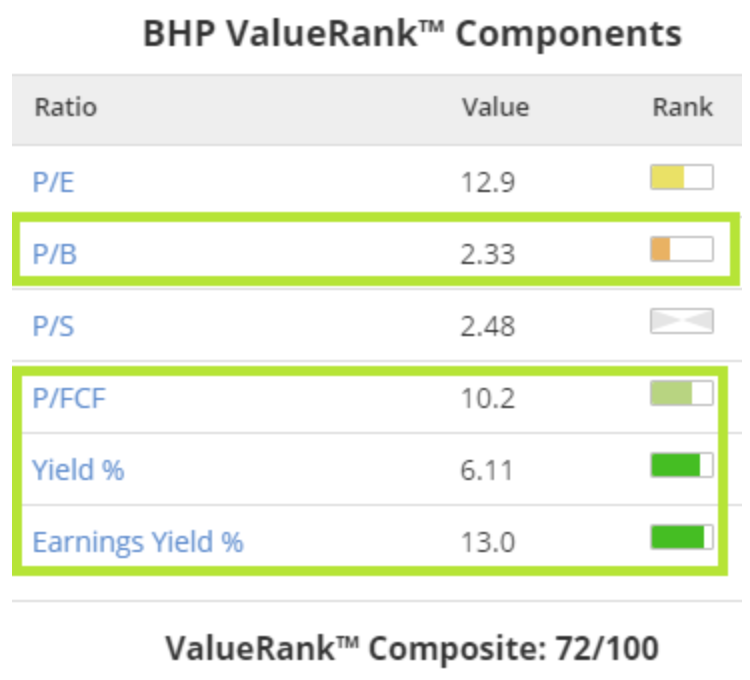 I've highlighted the value metrics I tend to focus on when reviewing a stock. At the bottom, we can see that the shares look good value relative to the surplus cash that's been generated and distributed by the business over the last 12 months.

BHP's earnings yield of 13% is also very attractive. As a reminder, earnings yield compares operating profit (EBIT) with enterprise value (net debt plus market cap).…

Unlock the rest of this article with a 14 day trial
Already have an account?
Login here