SIF Folio: "Confident" Character Group is back in the game
With Christmas approaching fast, now seems like a good opportunity take a closer look at a company whose profits depend heavily on festive trading.
Toy manufacturer Character Group has had a tough year, thanks to the bankruptcy of top customer Toys 'R Us last October. But the company's year-end trading statement in September made it clear that it's back in the game. Management expect results for the year to 31 August to "comfortably reach market expectations". That sounds to me like a modest earnings beat is possible when the firm reports at the end of November.
The right time to buy?
You can read Graham Neary's thoughts on September's trading update here.
What interests me today is that this £106m firm is also back in my Stock in Focus screen, making it a potential buy for the SIF Fantasy Fund. This is a business that's always tempted me, thanks to high returns on capital and strong free cash flow.

At the same time, it's not a stock for which I'd want to overpay. The main reason for this is that the business doesn't own much in the way of brands or tangible assets. Popular toy ranges such as Peppa Pig are all produced under licence. So the firm is dependent upon its reputation and commercial success to keep winning new contracts.

I'm not too concerned about the near-term outlook. The company has already said that "strong demand from our customers" makes it "confident of the prospects for the autumn/winter trading period".
What interests me more is the stock's valuation. The shares have four-bagged since July 2013. But most of these gains came during an explosive re-rating that took place from November 2014 to August 2015. Since then, the share price has basically flatlined: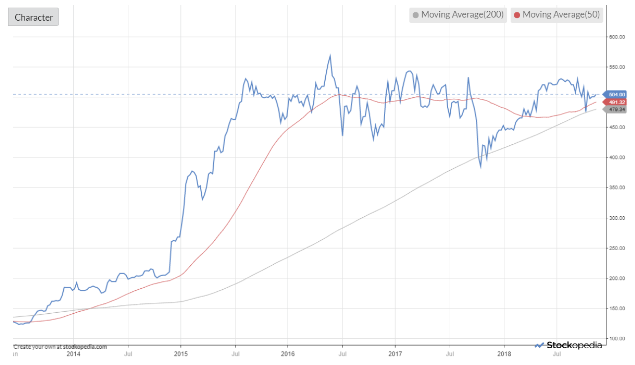 I'd argue that the chart could support another leg up from this level. But to form a more informed view, I think we need to drill down into the group's quality, value and momentum scores.

Spread: Sharp-eyed readers may notice that Character doesn't actually appear in the results of the SIF screen. The reason for this is the stock's spread, which is perilously close to my maximum limit of 4%:

I'm guessing this figure is being rounded up to 4% by the Stocko…

Unlock the rest of this Article in 15 seconds
Already have an account?
Login here