SIF July review: Morses Club, TRIG & Anglo Pacific
Despite political uncertainty at home and dramatic events in the Strait of Hormuz, it's been an inconclusive month for markets. In contrast to the sharp gains seen in June, the FTSE All-Share was up by about 1% in July at the time of writing.

Valued as a whole, the UK market looks reasonably priced to me. The FTSE All-Share is trading on a forecast P/E of 13.1 with a dividend yield of 4.1%, according to Stockopedia data. This is the index I use as a benchmark for my rules-based SIF Fund.
However, this middling valuation conceals a very wide range of underlying company valuations. Domestic stocks continue to look depressed, in many cases. More defensive firms are still enjoying premium valuations.
Canny stock pickers should be able to gain an edge. I'm not sure if that description will include me this year. The SIF folio's lead over the market has shrunk in recent months, although it still remains ahead of the market by about 20% since its inception in April 2016.
As it's the end of the month, it's time to review the portfolio to see if any stocks must face the chop.
Stocks for the chop?
Three stocks are up for review this month, having been in the portfolio for at least nine months:
Morses Club (LON:MCL) - Shares in this sub-prime lender have slumped over the last few months. Is this a sign of problems to come or a buying opportunity?

Renewables Infrastructure Group (LON:TRIG) - this renewables investment trust has proved a surprising performer, delivering capital gains as well as a high yield. But it could be time to take profits.

Anglo Pacific (LON:APF) - this mining royalty group survived June's portfolio review. Will it do the same again in July?
Here's how these companies have performed during their time in the SIF folio:

(Original coverage 16/10/2018)
This sub-prime lender has a significant share of the home collect market. It's also expanding its online business, through the Dot Dot Loans brand. Performance has been good since the 2016 IPO. Morses was also able to profit from the self-inflicted problems faced by larger rival Provident Financial in 2017/18.
However, the shares have come off the boil since March, falling by nearly 30% from an all-time high of 186p.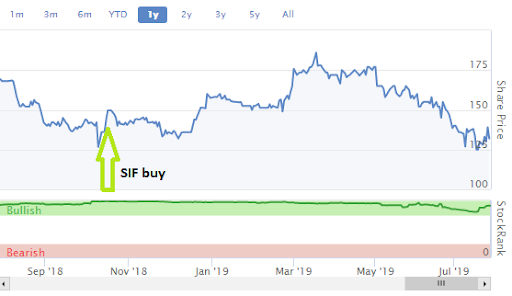 Unlock this Article with a 14 day free trial
Already have an account?
Login here