SIF June review: Miners Anglo Pacific & Sylvania Platinum are up 40%
It's almost the end of June, but this month I'm happy to report that I have two profitable positions to review! After recent calamities such as Staffline and Bilby, this makes a nice change. So without further ado, let's see what's been happening to the SIF folio's miners.

Stocks for review
I added two companies to the SIF fund in September 2018. After nine months in SIF, both are now due for review:
Anglo Pacific (LON:APF) - a highly profitable mining royalty firm with a dependency on coal. Can APF diversify in time?

Sylvania Platinum (LON:SLP) - this South African tailings specialist has been cashing in as the price of palladium has roared ahead. Is it too good to last?
Here's how these two companies have performed during their time in the portfolio:

Let's take a closer look at the news that has driven these gains and find out whether each stock still passes my screening tests.

(Original coverage 04/09/2018)
Mining royalty group Anglo Pacific came through the 2015/16 mining downturn relatively unscathed, albeit with a dividend cut. But the balance sheet remained fairly strong and chief executive Julian Treger's decision to maintain a dividend payout was vindicated.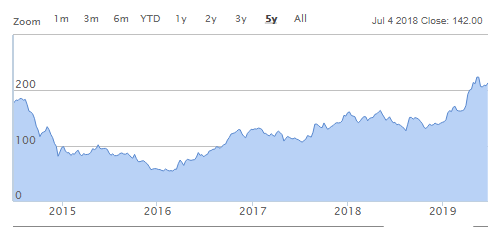 The shares have quadrupled from the lows seen in early 2016, as commodity prices have rocketed ahead once more. However, I think it's fair to say that Anglo Pacific has benefited from a mix of good judgement and good luck here.

In the right place at the right time: The firm's main cash-producing royalty asset is a stake in the Kestrel coal mine in Australia. This accounted for 70% of Anglo's royalty-related revenue last year.
However, this interest only covers certain parts of the mine acreage, so royalty income is dependent on which areas the mine's operator chooses to work. The proportion of Kestrel mining taking place in Anglo Pacific's royalty lands has moved in the firm's favour since 2015:

The combination of strong coal prices and a bigger share of Kestrel royalties has worked wonders for Anglo Pacific's revenue, most of which falls through to the bottom line as profit: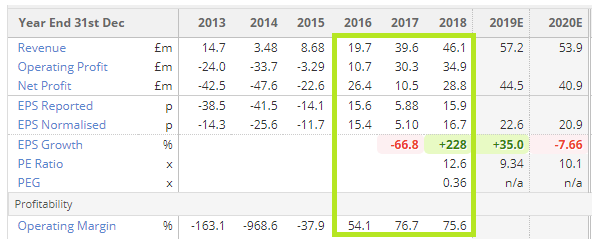 Heading for a blow out?
A…

Unlock this Article with a 14 day free trial
Already have an account?
Login here