SIF portfolio: 2017 in review & 3 new international stocks
It's been a good year for the SIF portfolio, which has delivered a one-year gain of almost 28%, beating the FTSE All-Share benchmark (+8%) by about 20%.

The portfolio now has an annualised gain (excluding dividends) of about 21% since its inception in April 2016. I'm quite happy with this.
Although many of you will have done better than this in 2017 (notably small cap editor Paul Scott), it's worth remembering that the SIF portfolio is largely mechanical. It requires very little in the way of research or analysis, and could be easily managed in less than an hour each week.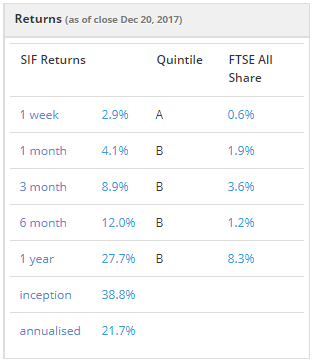 Hits and misses from 2017
Highlights from the last year include several stocks which delivered total returns of around 50% in nine months or less:

There were also a few misses, but not as many as I expected. This is undoubtedly thanks in part to the bullish backdrop to the markets this year. I don't expect to be able to maintain such a good record:
At the end of the year, the portfolio will contain 17 stocks. At the time of writing five of these are showing losses, ranging from 1% to 16%. Positions in profit range from +4% to +28%.
Patience pays off
I'm pleased I decided to lengthen the minimum holding period from six to nine months this year.
The main benefit of this is that at least one set of accounts will be published for every stock while it's in the portfolio. This means that a fresh set of numbers works through the market. This updates the data used in my screen, giving each stock a 'fresh' chance to stay in the portfolio.
I believe the longer holding period should also increase the effect of momentum and value factors on the share price.
International…

Unlock the rest of this Article in 15 seconds
Already have an account?
Login here