SIF portfolio December review: Coats, Hastings, Redrow & South32
Although market conditions have remained bullish this year and growth stocks have done well, the wider market hasn't really gone anywhere over the last nine months.
So I've been very encouraged that the SIF portfolio has continued to outperform during this time, with a one-year gain of 26%. This compares well to the 9% rise delivered by the benchmark FTSE All-Share index over the last twelve months.
As this is the last regular trading week of 2017, I've decided to bring forward the usual month-end review by one week. Four stocks were added to the portfolio in March. Will they stay with the portfolio into 2018?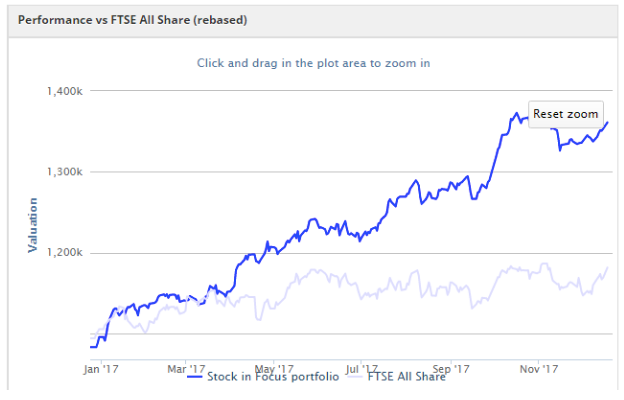 An average gain of 36.9pc
Here's a summary of the four stocks up for review this month, and their performance to date:
The SIF portfolio's benchmark, the FTSE All Share index, has only risen by 2.6% over the last nine months. Happily, all four of these stocks have performed much better than this since they joined the portfolio in March:

Including dividends, these four stocks have delivered an average total return of 36.9% during their time in the portfolio. That's an annualised total return of 49%, which I'm pretty happy with (although I don't expect this kind of performance to be sustainable).

However, this isn't a long-term buy and hold portfolio. Unless these stocks continue to qualify for my screen, they'll be sold from the portfolio and from the personal portfolio I run which (loosely) mirrors the SIF.
Coats Group
I have to admit that I hadn't been following the Coats turnaround story before it cropped up in my screen.
This 250-year old company first listed on the stock market in 1890. It emerged from the shadow of the Guinness Peat Group investment company in 2015 but a regulatory investigation into its pension schemes weighed on the share price until earlier this year, when a deal was done with the Pension Regulator.
Trading was already strong and has remained so. Revenue rose by 4% to $740m during the first half, while adjusted operating profit climbed 11% to $86m during the same period.
However, the shares have climbed by 67% so far this year and…

Finish reading with a 14 day trial
Already have an account?
Login here