SIF Portfolio: I'd like to bend the rules for Carr's Group
A more experienced and successful investor than me once said that he didn't like to look too hard for new stock ideas. If they didn't come onto his radar, they probably weren't worth pursuing.
That's not an approach that will work for everyone, but it has worked quite well for me over the years. I think another way of looking at it is that it is often best to restrict your investments to stocks and situations with which you're familiar. Hunting down obscure 'opportunities' outside your normal investment universe can end badly.
One company that's appeared on my investment radar over the last few months is agricultural feed and engineering conglomerate Carr's Group.
The stock fell by 15% in one day in March after a profit warning. But the shares have bounced back nicely and are now pretty much flat on a year-to-date basis. The firm's interim results in April didn't reveal any nasty surprises, and nor did July's trading statement.
In the meantime, Carr's has come within a whisker of qualifying for the Stock in Focus screen. As things stand, the stock falls short in just one area: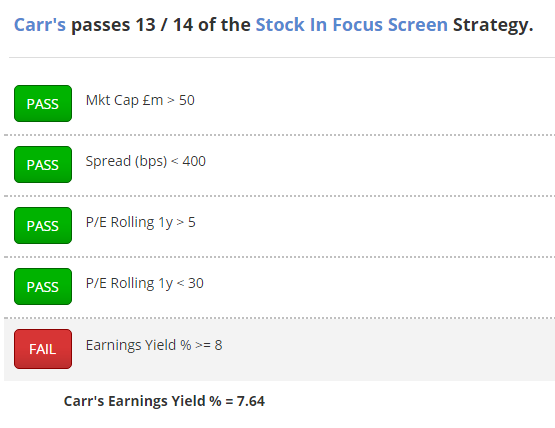 Earnings yield (EBIT/EV) is one of the most important metrics in my screen. My bias as a value investor means that I like to buy stocks where the company's earnings are going cheap. Comparing operating profit with enterprise value (market cap + net debt) is a neat and effective way to do this, in my view.
However, I estimate that the share price would only have to fall from the last-seen level of 145p to 139p to qualify for my screen. Arguably that's too small a gap to worry about, especially as the spread on this stock varies widely, and can be significant. Minimising the spread could be more profitable than waiting for the price to fall, in terms of future returns.
My challenge this week is to decide whether to bend my rules slightly and add Carr's to the SIF portfolio.
Is Carr's really a Super Stock?
As regular readers will know, the SIF portfolio is a rules-based portfolio. So if a stock passes all my screening tests and meets my diversification requirements, it's likely to end up in the portfolio.
I don't choose stocks based on their StockRank, but…

Finish reading with a 14 day trial
Already have an account?
Login here