SIF portfolio: Revisiting Fulcrum Utility Services one year on
Almost exactly one year ago, I decided against adding infrastructure services group Fulcrum Utility Services to the SIF portfolio.

Since then, I've learned a few lessons about letting my opinions take priority over the numbers. Most of the time, it's cost the portfolio money. For example, anyone buying Fulcrum in August last year, when it qualified for my screen, would have made a 69% profit in six months.
This sort of thing has happened nearly every time I've decided to overrule my screening results and reject a stock that qualifies for the portfolio. So I've become much more reluctant to do this. I'm mentioning this today because after disappearing from my screen for most of the last year, Fulcrum is back!
The company seems to have performed well over the last 12 months, but the shares have pulled back from the 52-week high of 67p seen in February. The stock is now worth just 53p per share.
Today, I'm going to review Fulcrum's financials and StockRank data. Should I grasp this new opportunity to add this stock to the portfolio?
Defensive or not?
Fulcrum's attraction is that it trades in the Utilities sector, so it qualifies as a defensive business. The SIF portfolio has always been underweight defensive stocks, so I'm always keen to add one when I get an opportunity.
The catch is that Fulcrum isn't defensive in the way that a normal utility might be. The firm installs gas and electric infrastructure for developers. For example, it might handle the connection to the grid and the build out of pipes and metering for a new development. This side of the business is clearly in the cyclical construction sector.
Where Fulcrum does start to look defensive is through its Fulcrum Pipelines business, which is a licensed gas transporter. This part of the group owns and operates many of the gas pipes and meter assets installed by Fulcrum, generating a recurring income. And although gas transportation only generated £695k of the group's £5.8m operating profit last year, this revenue stream is high margin and is growing fast: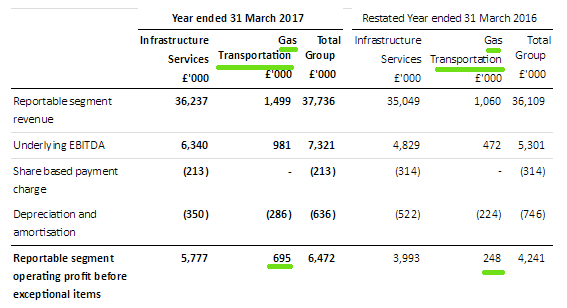 In 2015/16, gas transportation generated an operating profit of £248k at a margin of 23%.

In 2016/17, gas transportation generated £695k (+180%) of operating profit at a margin of 46%.
If Fulcrum can continue…

Unlock the rest of this Article in 15 seconds
Already have an account?
Login here