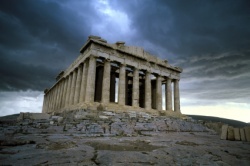 Alice laughed. "There's no use trying," she said" One can't believe impossible things."

"I daresay you haven't had much practice," said the Queen. "When I was your age, I always did it for half-an-hour a day. Why, sometimes I've believed as many as six impossible things before breakfast."
- From Through the Looking Glass by Lewis Carroll
Economists and policy makers seem to want to believe impossible things in regards to the current debt crisis percolating throughout the world. And believing in them, they are adopting policies that will result in, well, tragedy. Today we address what passes for wisdom among the political crowd and see where we are headed, especially in Europe.
I am reminded of the great line from the movie, The Princess Bride. Vizzini is the short bad guy who is trying to get away from Westley and every thing he attempts does not work. Westley just keeps on coming. At each failed attempt, Vizzini mutters, "Inconceivable." Finally, Vizzini has just cut the rope and The Dread Pirate Roberts (Westley) is still climbing up the cliff.
Vizzini: HE DIDN'T FALL? INCONCEIVABLE.
Inigo Montoya: You keep using that word. I do not think it means what you think it means.
European leaders keep telling us that the break-up of the eurozone is inconceivable. I do not think they know what that word really means. Let's see if I can explain the problem so that even a politician can understand.
But first, and quickly. We have transcribed the speeches from my recent 7th Annual Strategic Investment Conference I put on with my US partners Altegris Investments. To say they were awesome is somewhat of an understatement. If you have registered for my free accredited investment letter, you should already have gotten a link or will get one soon to the speeches. David Rosenberg, Dr. Lacy Hunt, Paul McCulley, Niall Ferguson, Jon Sundt, Jason Cummins, Gary Shilling and your humble analyst. That is a world class line-up.
If you are an accredited investor (basically $1.5 million net worth) and have not yet signed up for my letter, then go to www.accreditedinvestor.ws and do so now. One of my partners from around the world will get in touch with you and make sure you get access to the speeches. They will also show you a world class line-up of funds and investment managers that have the potential…

Unlock this article instantly by logging into your account
Don't have an account? Register for free and we'll get out your way
Disclaimer:
Copyright 2010 John Mauldin. All Rights Reserved John Mauldin, Best-Selling author and recognized financial expert, is also editor of the free Thoughts From the Frontline that goes to over 1 million readers each week. For more information on John or his FREE weekly economic letter go to: http://www.frontlinethoughts.com/learnmore Note: The generic Accredited Investor E-letters are not an offering for any investment. It represents only the opinions of John Mauldin and Millennium Wave Investments. It is intended solely for accredited investors who have registered with Millennium Wave Investments and Altegris Investments at www.accreditedinvestor.ws or directly related websites and have been so registered for no less than 30 days. The Accredited Investor E-Letter is provided on a confidential basis, and subscribers to the Accredited Investor E-Letter are not to send this letter to anyone other than their professional investment counselors. Investors should discuss any investment with their personal investment counsel. John Mauldin is the President of Millennium Wave Advisors, LLC (MWA), which is an investment advisory firm registered with multiple states. John Mauldin is a registered representative of Millennium Wave Securities, LLC, (MWS), an FINRA registered broker-dealer. MWS is also a Commodity Pool Operator (CPO) and a Commodity Trading Advisor (CTA) registered with the CFTC, as well as an Introducing Broker (IB). Millennium Wave Investments is a dba of MWA LLC and MWS LLC. Millennium Wave Investments cooperates in the consulting on and marketing of private investment offerings with other independent firms such as Altegris Investments; Absolute Return Partners, LLP; Fynn Capital; Nicola Wealth Management; and Plexus Asset Management. Funds recommended by Mauldin may pay a portion of their fees to these independent firms, who will share 1/3 of those fees with MWS and thus with Mauldin. Any views expressed herein are provided for information purposes only and should not be construed in any way as an offer, an endorsement, or inducement to invest with any CTA, fund, or program mentioned here or elsewhere. Before seeking any advisor's services or making an investment in a fund, investors must read and examine thoroughly the respective disclosure document or offering memorandum. Since these firms and Mauldin receive fees from the funds they recommend/market, they only recommend/market products with which they have been able to negotiate fee arrangements.
---
---