Six red flags that could have saved you from the BT Profit Warning
Nearly £7 billion of value was wiped out today in BT, formerly British Telecom, after the phone giant revealed that an accounting scandal at its Italian subsidiary was much bigger than first thought. For around 1 million individual shareholders, this sort of massive collapse at a FTSE 100 blue chip is very rare, and very bad news.
We've taken a look at the Stockopedia StockReport, a page that's packed full of algorithmic insights into the company's finances - to see if these problems could have been anticipated.
This one page online summary of the company gives every investor the insights they need to avoid these kinds of large cap catastrophes.  Let's take a closer look and learn to read some of the signs:
1 - A High Earnings Manipulation Risk
While BT's shares have been tumbling for some time, today's enormous 20% mark down was triggered by the escalation of an accounting scandal at their Italian subsidiary. Auditors KPMG uncovered a serious overstatement of earnings in its Italian subsidiary over a number of years.
"These investigations have revealed that the extent and complexity of inappropriate behaviour in the Italian business were far greater than previously identified and have revealed improper accounting practices and a complex set of improper sales, purchase, factoring and leasing transactions."
Can these kind of accounting scandals really be predicted?  Well yes, they often can.  The Stockopedia StockReport contains a neat metric called the "Earnings Manipulation Risk". This indicator has been flagging as "High Risk" for BT for some time.

Based on the work of Professor Messod Beneish, this forensic algorithm for finding accounting frauds has spotted a ream of high profile issues in the last two decades including Enron and Worldcom. By clicking the link on the indicator a set of risk factors is highlighted for BT including:

A disproportionate increase in receivables suggesting that the company may have been inflating sales figures by booking sales earlier or extending better credit terms to customers.
Unstable asset quality - which Beneish explains is a possible sign of improper capitalization of expenses and cost deferral.  Another common accounting fudge.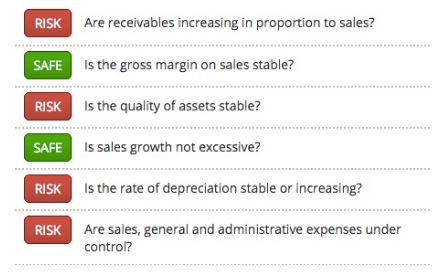 These sorts of accounting insights are just one click away on the Stockopedia StockReport.

2 - A Falling StockRank
BT had been one of the large cap stars in the UK market recovery from the global financial crisis.  From a low of 73.5p in 2009, the shares rocketed…

Unlock the rest of this Article in 15 seconds
Already have an account?
Login here