Small Cap Dog of the Day QUIZ

Quiz (LON:QUIZ) - Magical Profit after 72% fall in sales, Wow is that possible?



Update 26th Jan2021
Quiz (LON:QUIZ) announced Interim results declaring a promising profit, even though sales dropped 72%. Wow, how do you do that?
Well, the profit came from a 'Non-cash gain of £16.2 million arising on the administration of a subsidiary undertaken in the Period'. i.e the CVA allows the company to declare a profit by not paying its debt. Note this Non -Cash hence has no effect on cash flow. With Covid-19 continuing and events likely to be subdued for the seeable future Quiz (LON:QUIZ) still looks like a poor investment going forward. (see Graph below).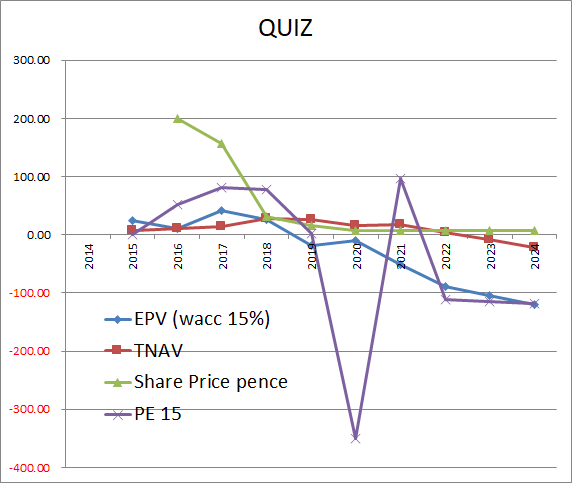 The model was updated today to take account of the CVA and new sales level. As the graph shows the profit is illusionary (purple line), EPV valuation based on cash flow (blue line ) shows the real picture.
Company performance continues to deteriorate, and this is just uninvestable. (more information below from previous up-dates).
As always DYOR and decide for yourself.
BSV
Updated 16th Sept 2020.
I was keen to understand how turnover rents affect valuations and I've tried to model Quiz (LON:QUIZ) below for illustrative purposes.
I found a useful article from fashion united which provides some detailed information. I included a link below that highlights what a contract might look like.
'The typical minimum base rent is around 75-80 percent of the total. The turnover payment element represents a percentage of the total turnover, usually between 5 and 12 percent; however, the mix can be tailored to suit both parties by negotiation. Typically, a retailer will want to increase the turnover rent element. (8 May 2020) .' (from fashion united).
https://fashionunited.uk/news/....
This probably does work well for a successful retailer, but not for a company like £QUIZ.
£23M of lease liability in 2019 with an average lease length of 26months. (£10.6M yearly rents)
So if we apply for some middle number base rent of 77.5%, and 8.5% of UK retail turnover
We get a base rent of £17.82M (base rent ) plus £7.64M (turnover rent, based on £89.8M retail turnover for 2019). This works out 25.46M for 26 months, or £11.75M yearly rent if sales recover to a…

Unlock the rest of this article with a 14 day trial
Already have an account?
Login here