Small Cap Dog of the Day Tricorn (TCN, PCIP, QUIZ, HSMO, RBG, DISH)
Tricorn

(LON:TCN)

- Tricorn one for the naughty step


Updated 16th Nov 2020
Declining from 40p to 5p today. Tricorn (LON:TCN) provides a post-trading update that the New Finance Director fines £3.6M hole in the financial statement. This is seldom with just error and is probably known to be happening by a number of personal at the company. I suspect it going to get a lot worst before the truth is known.
Sales profile 2019-2025

The Model below suggest this should be on the bargepole list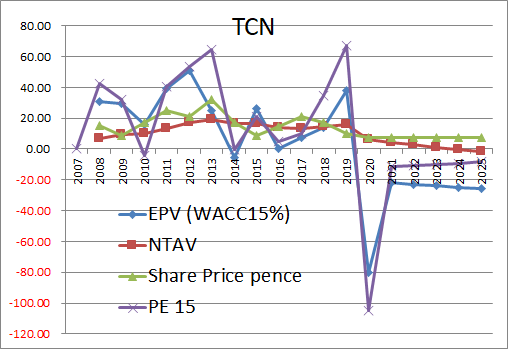 Bigdish (LON:DISH) – Buyer Beware

Updated 16th Nov 2020

Only the most guidable audience would believe today's announcement.
Translation of today's Funding Update (12th Oct 2020)

'The Company has signed a Letter of Intent (LOI) with a Central European investment group ("the New Investor") that has diverse multinational investment holdings, that is owned by an Ultra High Net Worth Individual (UHNWI). The LOI provides for a USD 5 million investment subject to key Conditions Precedent ("CPs") which are outlined below:'
Translation ;
Bigdish

(LON:DISH)

was unable to raise money from shareholders or the markets

The Bigdish-to-GO Saas platform is delayed to Q1 2021.
The funding available is conditional on auditing and completing the SaaS platform and Restaurant acceptance of BigDish-to-GO and business plan.
'If successful, the investment would be made into a Special Purpose Vehicle (SPV) to support international expansion and would not be dilutive to the Company.'
Translation;

Deare shareholder we think its best if we don't tell you how onerous terms of the agreement will be

'The Company has been managing its cash position and in order to ensure the successful build-out of the SaaS platform has secured a short term loan from an investment company of £540,000. These funds would be used to include increasing the size of the technology team in order to facilitate the build-out of the SaaS platform. This short term funding will ensure that the Company has sufficient runway until the end of the second quarter of 2021 and to ensure the CPs are completed. Loan repayments will be due in the second and third quarters of 2021.'
Translation;

Deare shareholder we think its best…

Unlock the rest of this Article in 15 seconds
Already have an account?
Login here