Thanks to the woeful under-performance of smaller-cap stocks since March of this year, I have been thinking about constructing a small-cap income + growth portfolio, in much the same way as fund manager Gervais Williams is doing at Miton.
While the FTSE Mid-250 index has started to recover this year's losses (yellow line in chart below), both the Small-Cap and AIM 100 indices have yet to follow meaningfully - the FTSE Small-Cap index is still over 7% down from Jan 1, while the AIM 100 index is over 18% down.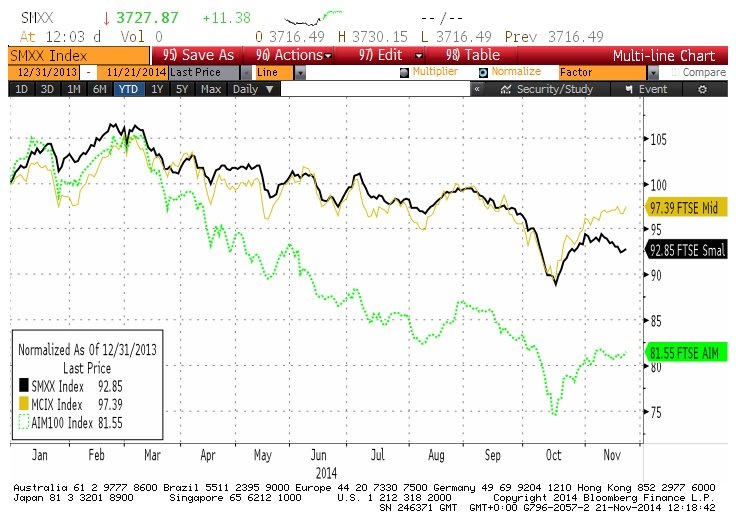 It seems clear to me that there are currently a number of very attractive value opportunities in the small-cap space, so I wanted to construct a very simple screen to serve as a starting point for further research. 
So I have extracted a preliminary list of smaller-cap higher-yield stocks drawn from the FTSE Small-Cap, Fledgling and AIM 100 indices using the following rules:
Market cap over £10m (for a minimum level of liquidity);
No foreign primary listed companies;
A rolling dividend yield of 5% or over;
Dividend cover of at least 1.4x;
a Stockopedia QualityValue Rank of 90+.
This is the list of 10 names I have come up with, ready for further research: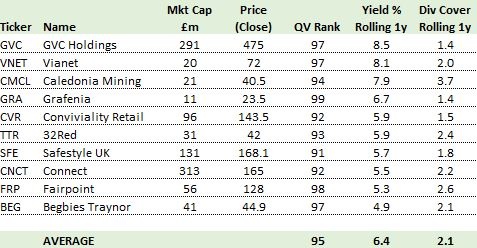 Interestingly, I already own or have owned in the recent past a number of these names; note that an equally-weighted portfolio of these 10 companies gives an average yield of 6.4%, covered over 2x. 
I have already looked at, and like, the following companies on this list: Safestyle UK (LON:SFE), Connect (LON:CNCT), Fairpoint (LON:FRP) and Begbies Traynor (LON:BEG). I shall be looking in more detail into the other names in due course. 
Edmund

Unlock this article instantly by logging into your account
Don't have an account? Register for free and we'll get out your way
Disclaimer:
My opinions only, not investment recommendations: Please Do Your Own Research
---
---

Fairpoint Group plc is a United Kingdom-based company, which provides consumer professional services, including legal services, claims management services and debt solutions. The Company has four segments: claims management, legal services, individual voluntary arrangements (IVA) and debt management plans (DMP). The IVA segment consists of the subsidiary company, Debt Free Direct Limited, which is an IVA that consists of a managed payment plan providing both interest and capital forgiveness. DMP services segment consists of the Company's subsidiary, Lawrence Charlton Limited, which provides DMP for consumers. Claims management segment provides a range of claims management services, including reclaiming payment protection insurance (PPI). The legal services segment provides a range of consumer-focused legal services with lines, such as family law, complex personal injury, personal legal services, and a legal processing center focused on both personal injury and conveyancing work. more »

LSE Price

Begbies Traynor Group plc is a business recovery and property services consultancy. The Company's segments include insolvency and restructuring, and property. It provides services from a network of the United Kingdom locations through two operating divisions: Begbies Traynor and Eddisons. Begbies Traynor is an independent business recovery practice that handles corporate appointments, serving the mid-market and smaller companies. It provides insolvency, restructuring and consultancy services to businesses, their professional advisors and financial institutions. Eddisons is a national firm of chartered surveyors, delivering transactional and advisory services to owners and occupiers of commercial property, investors and financial institutions. It provides professional services, such as business rescue options, advisory options, forensic accounting and investigations, corporate and commercial finance, personal insolvency solutions and services to banking, legal and accounting sectors. more »

LSE Price

Connect Group PLC is a United Kingdom-based distributor operating in newspaper and magazine wholesaling, and mixed freight distribution. The Company operates in three segments: Smiths News, DMD and Tuffnells. Smiths News segment distributes newspapers and magazines to retailers across England and Wales from its 39 distribution centers. DMD segment supplies newspaper and magazines to airlines and provides inflight services. Tuffnells segment provides next day business to business (B2B) delivery of irregular weight and dimensions consignments. Smiths News distribution network includes six hubs and 33 satellite depots. DMD supplies printed and digital media to travel points. Tuffnells provides parcel freight services for small and medium-sized enterprises. The Company's subsidiaries include Smiths News Holdings Limited, Dawson Media Direct Limited and Tuffnells Parcels Express Limited. more »

LSE Price