Small Cap Report (11 Apr) - NXR, XAR, SRT, PLA, VLX
Pre 8 a.m. comments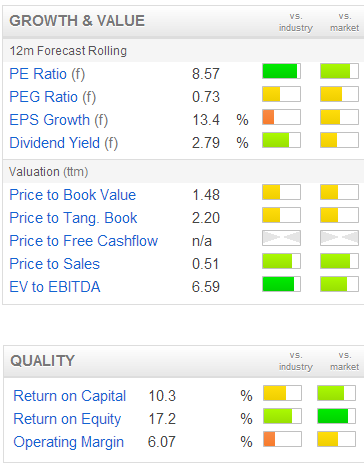 Good morning! The year end (31 Mar) trading statement from Norcros (LON:NXR) has been issued, and doesn't seem to contain any surprises. This is an interesting company which looks significantly under-valued to me, since its peers are typically on a PER of about 17 (pricing in some economic recovery/growth), whereas Norcros has languished on a single digit PER for a long time, although the shares have risen nicely they still look good value to me.
Norcros manufacture and distribute Norcros showers, Johnson Tiles, Norcros Adhesives, and following a very recent acquisition, Vado taps & fittings. They operate mainly in the UK and S.Africa - interestingly Southern Africa being a good growth area at the moment apparently.
Group turnover rose to £210m (up 5% vs prior year, and up 10% on a constant currency basis), and this is all organic growth because Vado was only acquired on the last day of the financial year.
Underlying operating profit is a creditable £13.0m (versus £12.1m for 2011/12). I am impressed with how Norcros makes a fairly steady 5-6% operating margin, having done its restructuring a few years ago after the credit crunch saw it get into hot water (geddit?!!) loaded up with too much debt after a disastrously ill-timed IPO in July 2007.
Bear in mind that NXR has quite a large depreciation charge, so the underlying EBITDA is c.£20m. This should enable it to repay debt fairly rapidly, although in the short term net debt has risen to £31m (well within newly enlarged £70m bank facilities (some of which will be for Letters of Credit, Forex hedging purposes, but I don't know the breakdown).
However, they also own freehold property with a net book value of £28.2m at 31 Mar 2012, so I tend to offset that against debt in my calculations. One should also consider the large pension fund, but this was 94% funded as at 30 Sep 2012, so a relatively small £22.3m deficit. That will be a volatile figure, but QE has exaggerated all final salary pension scheme deficits, so the likelihood is that it will reduce or disappear altogether once bond yields normalise (as that affects the present value of how liabilities are calculated). It's also a mature scheme, so will dwindle in size over time.
The pension scheme…

Unlock the rest of this Article in 15 seconds
Already have an account?
Login here