Small Cap Value Report (11 Sep 2014) - SAL, DEMG, NPT, SEA
Good morning!
Share price: 43.5p
No. shares: 19.5m
Market Cap: £8.5m
There are two announcements from this company today. It operates the kiosks in shopping malls & other spaces (such as railway stations), and is the market leader in the UK and Germany. It also does face-to-face marketing campaigns in similar venues.
As you can see from the share price below, it's been a disaster this year - due to a profit warning that came completely out of the blue in Apr 2014, following several years of excellent performance, rising earnings & dividends, etc. Profit warnings are an occupational hazard with small caps - you can't avoid them, so there's no point in getting stressed, you just have to weigh up the new information and make a decision whether to stick with the company (knowing that a recovery might take 6-18 months), or to just bail out - if you can, as liquidity often dries up on bad news.
After an initial bounce, the share price has continued to grind down, because of a complete information blackout from the company. No news is ALWAYS bad news, so I've been expecting another profit warning, but balancing that up with the fact that the market cap has now fallen so low, that anything other than disastrous news has already been priced in.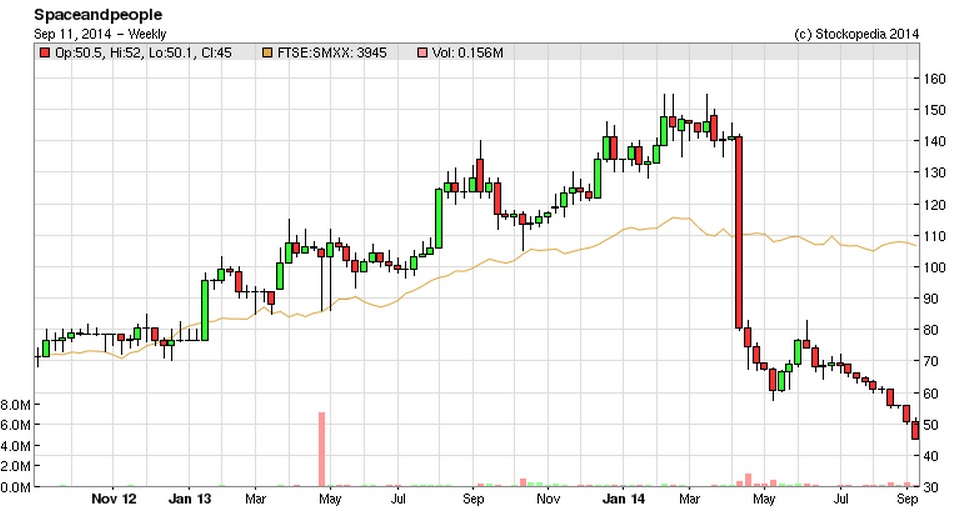 Profit warning - sure enough we have the next profit warning today. Helpfully, the company gives its best estimate of profit for the current year. Brokers were expecting profit of just under £2.2m for calendar 2014 before the Apr 2014 profit warning.
(Hint: you can look back in time by clicking on the "Print" button on the StockReport, and a drop down menu appears which allows you to select a previous StockReport - so in this case I can check the StockReport in Apr 2014 to see what the forecasts were before the profit warning).
The warning in Apr 2014 guided the market down to £1.65m pre-exceptional profit for 2014. This has turned out to be too optimistic. Today the company guides the market down again, as follows;
We now forecast 2014 profit before tax and non-recurring items to be £800k, with an upside of potentially a further £200k, and profit before tax but after non-recurring costs of between £500k and £700k. We are providing a range at this point…

Unlock this article instantly by logging into your account
Don't have an account? Register for free and we'll get out your way
Disclaimer:
As per our Terms of Use, Stockopedia is a financial news & data site, discussion forum and content aggregator. Our site should be used for educational & informational purposes only. We do not provide investment advice, recommendations or views as to whether an investment or strategy is suited to the investment needs of a specific individual. You should make your own decisions and seek independent professional advice before doing so. Remember: Shares can go down as well as up. Past performance is not a guide to future performance & investors may not get back the amount invested. ?>
---
---

SpaceandPeople plc is a United Kingdom-based media specialist company. The Company is engaged in marketing and selling of promotional and retail licensing space on behalf of shopping centers and other venues throughout the United Kingdom, Germany, France and India. The Company's segments include Promotional Sales, Retail, Head Office and Other. The Company markets, sells and administers promotional space in a range of footfall venues across the United Kingdom, including shopping centers, theme parks, garden centers, retail parks and airports. The Company offers a service covering from consultancy services to the provision and management of retail merchandising units in shopping centers. It enables venues to market, administer, promote and sell their promotional space. Its subsidiaries include MacPherson & Valentine Limited, SpaceandPeople GmbH, Retail Profile Holdings Limited, POP Retail Limited, Retail Profile GmbH, SpaceandPeople India Pvt Limited and S&P+ Limited. more »

LSE Price

Deltex Medical Group plc is a United Kingdom-based haemodynamic management company, which manufactures fluid management devices. The Company's segments are Probes and Other. The Company's Esophageal Doppler Simulator (EDS) enables clinicians to practice probe insertion, focussing and waveform interpretation outside of a patient setting. The Company's CardioQ-EDM and CardioQ-EDM+ esophageal Doppler monitors (EDM) are designed to allow clinicians to guide fluid and drug administration during surgery. The Company's oesophageal Doppler haemodynamic monitoring (ODM) uses ultrasound to measure blood flows in the central circulation of patients, and allows doctors to fine tune the circulation. Its probes include surgical probes, such as I2S and I2P, and critical care probes, such as I2C and EDP240. Its I2S and I2P are used in patients who are anesthetized, sedated or awake. Its EDP240 is used in patients under anesthesia or full sedation. It has operations in Spain and Canada, among others. more »

LSE Price

NetPlay TV plc is a United Kingdom-based online gaming company. The Company operates various interactive gaming services under an Alderney gaming license. The Company operates through two segments: Business-to-Customer (B2C) and Business-to-Business (B2B). B2C consists of various online products and ancillary income. The brands operated in this division are Supercasino.com, Jackpot247.com and Vernons.com. These brands operate online gaming and betting products. B2B relates to the online marketing, product development and technology business. The Company allows its customers to interact with its games on various platforms, such as television, Internet, mobile and tablet from a common integrated wallet. Its SuperCasino offers slot machine games, live dealer blackjack and baccarat, card games, a selection of casino table games, video poker and instant-win arcade games. Its Jackpot247 hosts games in the Playtech Latvian studio and their online casino games. more »

LSE Price