Small Cap Value Report (2 Jul 2014) - BLNX, JSG, MTC, TPT
Good morning!
This is on the cusp of what I define as a small cap (upper limit in a grey area between £200-300m - other people use varying figures), but I suspect it might be coming down more firmly into my territory. The market cap at 66p is around £262m.
I've never quite understood their business model, nor how they managed to generate such strong growth in turnover & profit. It seems to revolve around online videos, and the selling of associated advertising.
You may recall that this is the company that was the subject of a critical blog from a Harvard Associate Professor, Ben Edelman. He also presented at the UK Investor Show in April 2014 in London. I freely admit to not having a clue about the technicalities of what he said, but it sounded credible, and he is credible - you don't get to be a Harvard Associate Professor if you're daft. If his allegations were untrue, then he wouldn't have risked his career by making them, is my reading of the situation.
That's why I have avoided buying shares in Blinkx - on the no smoke without fire principle, even though as noted here on 6 May 2014, they appear reasonably good value - with strong profits that look real (i.e. not created by accounting tricks), and piles of cash on the Balance Sheet.
Also I am suspicious of situations where the share price does not rebound when it should, if all was well. That again makes you feel that there must be some substance to the bearish case against a company.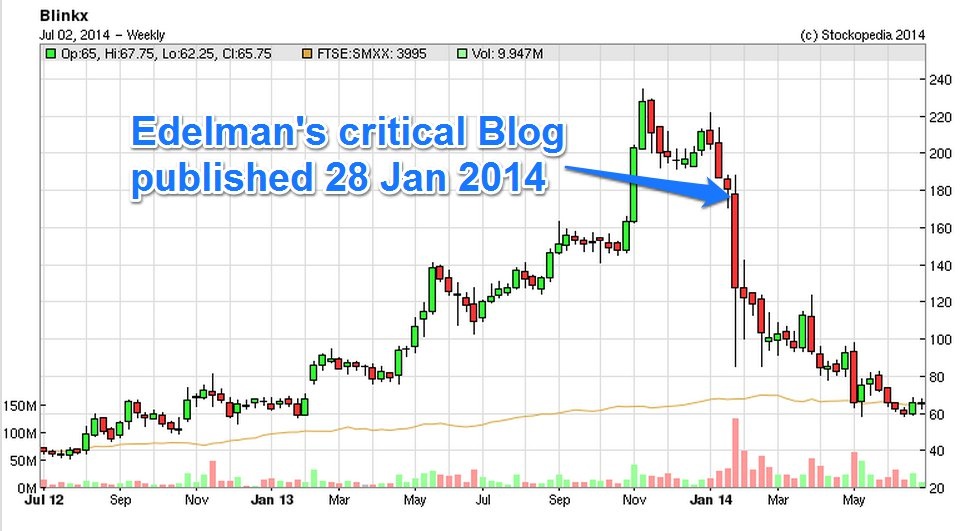 Anyway, this morning the situation seems to have got a lot worse for Blinkx shareholders, as a trading update is issued which is clearly a profit warning. The company refers to H1 trading to date, but seeing as they have a 31 Mar year end, then this looks like a Q1 update to me (Apr-Jun). The key figures are not good;
...As a consequence, while revenues grew c. 5% year-on-year, EBITDA will be c. $5M below management expectations for the Period, based on the Company's internal models.
"the period" presumably is H1 rather than Q1, i.e. expectations for H1, based on trading in Q1, that's how I read it anyway.
Interestingly the reasons given for the profit shortfall specifically mention the attack by Edelman;
Historically, blinkx's business…

Unlock this article instantly by logging into your account
Don't have an account? Register for free and we'll get out your way
Disclaimer:
As per our Terms of Use, Stockopedia is a financial news & data site, discussion forum and content aggregator. Our site should be used for educational & informational purposes only. We do not provide investment advice, recommendations or views as to whether an investment or strategy is suited to the investment needs of a specific individual. You should make your own decisions and seek independent professional advice before doing so. Remember: Shares can go down as well as up. Past performance is not a guide to future performance & investors may not get back the amount invested. ?>
---
---

RhythmOne plc, formerly blinkx plc, is an online advertising company that connects digital audiences with brands through content across devices. The Company is engaged in offering online advertising through a range of formats and pricing options that include video, mobile, social, display, native, text and media covering brand, and performance advertising campaigns, sold both directly and programmatically. The Company offers RhythmMax, which is an integrated programmatic trading platform. The RhythmMax platform offers a common point of access to RhythmOne inventory across owned, controlled and extended supply sources. The RhythmMax platform includes specialized brand safety technology, RhythmGuard, which combines third-party verification methodologies with filtering technology to ensure quality inventory. The Company works with advertisers, publishers and content providers to offer integrated, cross-screen advertising solutions. more »

LSE Price

Johnson Service Group PLC is a United Kingdom-based company that provides textile rental related services. The Company is the supplier of workwear and protective wear. The Company operates through Textile Rental segment. The Textile Rental segment is engaged in the supplying and laundering of workwear garments and protective wear; linen services for the hotel, restaurant and catering markets, and high volume hotel linen services. The Textile Rental segment principally consists of workwear garments, cabinet towels, linen and dust mats, are initially treated as inventories. It operates Textile Rental business under the brands, including Apparelmaster, Stalbridge, Bourne and London Linen. Its market workwear rental business, providing a clothing portfolio to the workplace, supported by sourcing supply and aftercare service solutions. Its Johnsons Stalbridge Linen Services offers the laundry service to the hospitality sectors. more »

LSE Price

Mothercare plc is a retailer for parents and young children. The principal activity of the Company is to operate as a specialist omni-channel retailer, franchisor and wholesaler of products for mothers-to-be, babies and children under the Mothercare and Early Learning Centre brands. The Company's operating segments include the UK business and the International business. The UK business segment includes the United Kingdom store and wholesale operations, catalogue and Web sales. The International business segment includes the Company's franchise and wholesale revenues outside the United Kingdom. Its clothing and footwear product includes ranges for babies, children and maternity wear; home and travel includes pushchairs, car seats, furniture, bedding, feeding and bathing equipment, and toys are mainly for babies. It operates in the United Kingdom through its stores and direct business, and across the world in over 60 countries through its international network. more »

LSE Price