Small Cap Value Report (24 May 2016) - TPT, ACSO, PTCM
Good morning!
---
Share price: 136.4p (up 3.9% today)
No. shares: 193.1m
Market cap: £263.4m

Interim results, 26 wks to 2 Apr 2016 - the numbers look solid. Here are the KPIs, with my comments on the highlighted items below: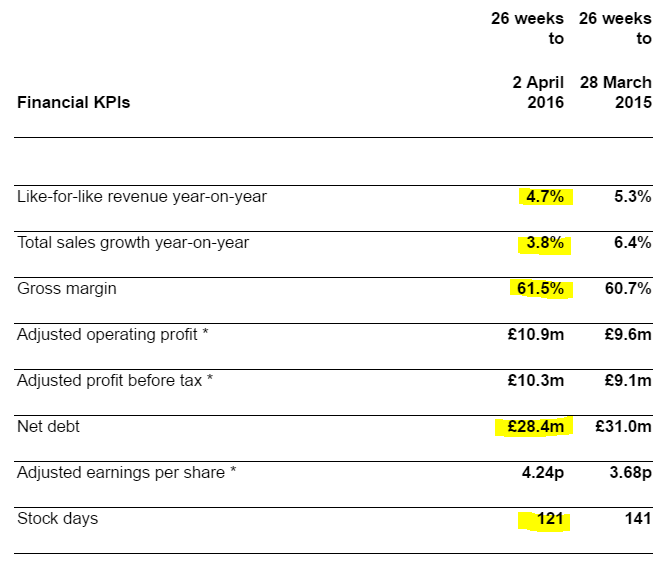 Note that total sales growth of 3.8% in H1 is actually lower than the LFL sales growth of 4.7%. This must mean that the number of stores actually declined. The narrative confirms this is due to the closure of their Topps Clearance format.
This looks to me like a company which is becoming mature. So it looks to have taken a bit of a breather from expanding the number of stores, and instead focussed on profitability. That makes a lot of sense, it's not a criticism.
Gross margin of 61.5% is outstanding. You can't really fail to make money with that kind of profit margin. Although it will of course attract competition.
Net debt of £28.4m isn't a problem, given the strong profitability, which should be in the £20m ballpark for the full year. The Naked Trader suggests a simple reasonableness check, that net debt shouldn't be more than 2-3 times profit. Something like that anyway. I think that's an excellent & very simple way to double-check that debt is not excessive.
I think you could tweak that idea, by looking at the volatility of historic profits, and thinking about how cyclical the company is. So you might tolerate more debt, if the company is not particularly cyclical, and has churned our reliable profits every year, even in recessions.
Also, I always offset freehold property against net debt, because banks are very relaxed about debt where they hold freeholds as security. Also, in the worst case scenario, freeholds can be sold to raise cash, in order to reduce bank debt. In this case, TPT says today:
The Group currently owns eight freehold or long leasehold sites (2015: eight), including one warehouse and distribution facility, with a total net book value of £16.3 million (2015: £16.6 million).
So that makes me even more relaxed about the £28.4m net debt.
Interest cost has reduced considerably on the P&L in H1, which is handy.
Dividends - the downside of companies with bank debt, is that the divis can sometimes be a bit constrained. That's certainly been the case with TPT in the past. The…

Unlock the rest of this Article in 15 seconds