Small Cap Value Report (7 Apr 2017) - EPWN, MOTR, FDL
Good morning,
I'm planning to cover a few stocks from yesterday, since there is a lack of news today (ignoring the macroeconomic issues, of course!)
Regards
Graham

---
Epwin (LON:EPWN)

Share price: 106.4p (+2%)
No. shares: 142.5m
Market cap: £152m
A strong set of results from this manufacturer of building products (windows, doors, decking, etc):

Final dividend is increased marginally to 4.4p.

Net debt also increases to £20.6 million.

Epwin has been pursuing growth by acquisition; all acquired companies are said to be performing well.

Outlook is a bit subdued:

"Whilst the long-term impact of the EU referendum result on consumer confidence remains unclear, trading in the current year has been in line with management's expectations.  Input costs have increased sharply as a result of the weakening of sterling since June 2016. However, the Group is continuing its efforts to mitigate this and the Board remains confident in the long-term fundamentals of the Group and the markets it serves"
The overall vision seems to be continuously expanding/improving the product range and ending up with vastly more cross-selling opportunities and economies of scale as a result.
And the statement makes a few interesting arguments to the effect that people aren't repairing and maintaining their properties as much as they should, so that a backlog of necessary repair work is being built up. They would say that, wouldn't they!
Like-for-like revenues (excluding acquisitions) grew by just 2%.

My opinion

Seems difficult to get too excited about this. On the one hand, it would be much too harsh to describe this as a commodity business - there is substantial expertise required in the manufacture of many of these products.

On the other hand, the company's admitted vulnerability to exchange rate movements, and the lack of like-for-like growth which is also due to factors beyond its control, leave me with some doubts about its underlying quality.

Regular readers will be aware that acquisition-led growth is something I instinctively shy away from.

Apparently I'm not the only one suffering from a bit of scepticism toward this share, as the PE ratio is undoubtedly very cheap versus the market as a whole, at less than 8x.

Stockopedia agrees that it's in the bargain bucket: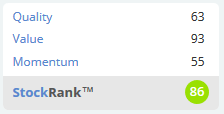 ---
Share price: 150.75p…

Unlock this article instantly by logging into your account
Don't have an account? Register for free and we'll get out your way
Disclaimer:
All my own views. I am not regulated by the FSA. No advice.
---
---

Epwin Group Plc is a manufacturer of extrusions, moldings and fabricated low maintenance building products, operating in the repair, maintenance and improvement, new build and social housing sectors. The Company operates through two segments: Extrusion and Moulding, and Fabrication and Distribution. The Extrusion and Moulding segment is engaged extrusion and marketing of polyvinyl chloride-unplasticized (PVC-U) window profile systems, PVC-UE cellular roofline and cladding, rigid rainwater and drainage products and wood plastic composite decking products. It operates from extrusion and molding facilities in Telford, Tamworth and Scunthorpe, among others. The Fabrication and Distribution segment is involved in fabrication and marketing of windows and doors, distribution of cellular roofline, rainwater and drainage products, and manufacture of glass sealed units. It operates from over five window and door fabrication sites, and approximately two glass sealed unit manufacturing sites. more »

LSE Price
Motorpoint Group plc is an independent vehicle retailer in the United Kingdom. The Company's principal business is the sale of vehicles, of which are approximately two years old and which have covered over 15,000 miles. The Company sells vehicles from brands representing vehicle sales in the United Kingdom, with models from Ford, Vauxhall, Volkswagen, Nissan, Hyundai, Audi and BMW. The Company operates from over 10 retail sites across the United Kingdom. The Company has a national contact-center dealing with online enquiries. In addition to sales of vehicles, the Company operates Auction4Cars.com, a business to business online auction platform for vehicles. The Company also offers ancillary products to customers, including customer finance packages, vehicle guarantees, insurance products and vehicle protection treatments. more »

LSE Price

Studio Retail Group plc, formerly Findel plc, operates in the home shopping and education supplies markets. The Company's segments include Express Gifts, Findel Education and Overseas Sourcing. The Express Gifts segment includes direct mail order businesses in the United Kingdom, offering online and through catalogue a range of home and leisure items, clothing, toys and gifts supported by credit offer. The Findel Education segment supplies resources and equipment (excluding information technology and publishing) to schools and educational establishments in the United Kingdom and overseas. The Overseas Sourcing segment includes sourcing office based in Hong Kong supplying importing services to various group companies and external customers. The Company's subsidiary Express Gifts Limited, includes Studio, an online and home catalogue shopping; Ace, an online store for home, living and garden needs, and Health & Home, an online store for beauty, home, office and garden accessories. more »

LSE Price