Small Cap Value Report (7 Jul 2015) - CHH, SOM, GBO, CMS, CNCT, SOLI, MCB
Good morning!
A couple of things to note. Firstly, the market crash in China is continuing apace - I'm not sure which Index is the main one, but currently the China 300 Index is at 3,660, which is down c.32% from the peak less than a month ago. It doesn't seem to be having any impact on our markets though, thankfully.
The second striking thing was the big drop in the price of oil yesterday. Looking at the chart of US Light Crude, it was trading in a range of $58-62 in May-Jun 2015, but suddenly lurched down to $53.18 over the last week. I don't know why, just the forces of supply and demand I suppose. It's making me wonder whether I should defer any further attempts at bargain hunting in the oil, and oil services sectors?
Right, quite a few interesting trading updates this morning, so let's get cracking!
---
Share price: 554p (price unchanged today)
No. shares: 11.0m
Market cap: £60.9m
Trading update - today's update is reassuring: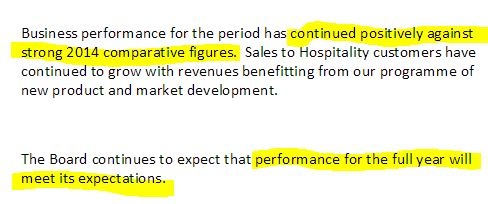 Valuation - I last looked at this company at 595p per share in Jan 2015, and concluded that it was rather too pricey. It's drifted down about 7% in share price since then, combined with broker estimates having edged up, so a double positive there.
The fwd PER is now 16.2, and the dividend yield is 3.2%.
Combined with a strong balance sheet, I think the shares look fairly priced.
My opinion - I like this company, its sound finances, and the valuation has come down from a touch expensive, to reasonable now, in my view.
There seem to be new restaurants and cafes popping up all over the place (in the South anyway), so I expect CHH will continue to enjoy buoyant trading for some time to come. Although it's important to remember that demand is cyclical, so profits are likely to drop when the next recession comes along.
I wonder if they are likely to be impacted by the strength of sterling? I've just checked the last Annual Report (page 57), and 60% of turnover is UK, with Europe being the next largest region, at 23%, N.America 8%, and RoW 9%. No mention is made about currency in today's update, so presumably the company must have either hedged, or absorbed the impact itself.
---
Disclaimer:
As per our Terms of Use, Stockopedia is a financial news & data site, discussion forum and content aggregator. Our site should be used for educational & informational purposes only. We do not provide investment advice, recommendations or views as to whether an investment or strategy is suited to the investment needs of a specific individual. You should make your own decisions and seek independent professional advice before doing so. Remember: Shares can go down as well as up. Past performance is not a guide to future performance & investors may not get back the amount invested. ?>
---
---

Churchill China plc is a United Kingdom-based manufacturer and distributor of tabletop products to the hospitality and retail sectors across the world. The Company's customers include pub, restaurant and hotel chains, sports and conference venues, health and education establishments, and contract caterers. The Company's segments include Hospitality and Retail. The Company primarily offers ceramic tableware. The Company also manufactures and sources product sold through Retail customers for consumer use in the home, in various markets across the world. The Company offers Churchill branded manufactured products. The Company offers various types of products, such as accessories, beverage pots, bowls and dishes, cake stands, cookware, cups, mugs, cutlery, dip pots and sauce dishes, glassware, jugs, melamine items, plate towers, plates, saucers and wooden items. Its collections include Alchemy Fine China, Churchill Super Vitrified, Art de Cuisine, Sola Cutlery and Lucaris Glassware. more »

LSE Price

Somero Enterprises, Inc. is a manufacturer of laser-guided equipment. The Company's equipment automates the process of spreading and leveling volumes of concrete for commercial flooring and other horizontal surfaces, such as paved parking lots in North America. The Company's products include S-22E, S-15R, S-15M, STS-11M, S-840, S-485, CopperHead XD 3.0, Mini Screed C, PowerRake 3.0, 3-D Profiler and SiteShape. Its Somero Floor Levelness System monitors Laser Screed performance, operator performance and reports alert percentages of issues. The Somero SiteShape System allows for grade shaping automatically using users' motor grader, dozer or other grading machine. The Somero 3-D Profiler System allows automatic paving of contoured sites using a Somero Laser Screed equipment. The CopperHead XD machine encounters applications, such as chaired rebar, low slump and poor subgrades. The Somero eXtreme Platform (SXP) allows users use their Laser Screed equipment. more »

LSE Price