Small Cap Value Report (Fri 13 Sep 2019) - CCT, JDW, GAN, TM17
Good afternoon, Graham here.
Paul and I appear to have got our wires crossed about who was doing today's report.
I'm going to do a late version of the report now, with the help of Jack Brumby.
Sorry for the lack of communication and lateness! We are on it now.
Today's report covers:
---
By Jack:
Share price: 355p (-4%)
No. of shares: 21.4 million
Market cap: £76 million
Profit warning.
'Through a combination of these factors, the profit before tax for the Group for the year ended 31 August 2019 is likely to be in the range of £11.0m - £11.5m., slightly under the lower end of current market expectations.'
This toy company is one of the more popular stocks on the site - and recently, as many of you know, the share price has unravelled as a result of Hasbro bidding for Peppa Pig IP owner Entertainment One. It's been quite a dramatic decline.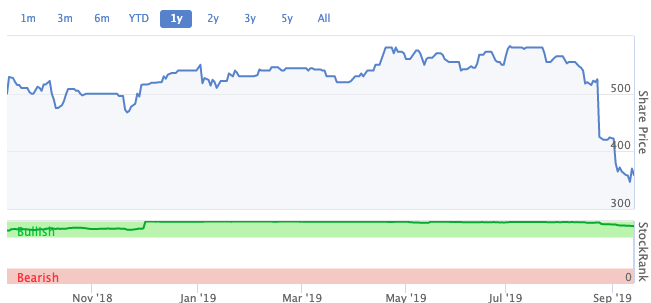 That's a drop of about 38% over the past couple of months. Alas, when it rains it pours.
The company says:
'The second half of the financial year just ended has seen several factors negatively impacting our business. The most significant factor has been the failure of the retail market in Scandinavia to fully absorb the sales vacuum caused by the liquidation in January this year of Top Toy, OVG-Proxy ApS's ("Proxy") largest customer until its demise.'
Add to this Sterling weakness (with the $/£ proving particularly painful for the group) and the fact that Character's recent purchase of Proxy needs a bit more TLC than was originally anticipated… It's clear that conditions are tricky for management right now. When it rains it pours.
As for Peppa Pig, Character says:
To date, there has been no dialogue between the Company and Hasbro as to its future intentions for Peppa Pig and, although it is unlikely that a definitive position in that regard will be known for some time, discussions have taken place with eOne and it has been agreed that the Group's current Peppa Pig licence (due to expire on 31…

Unlock this article instantly by logging into your account
Don't have an account? Register for free and we'll get out your way
Disclaimer:
All my own views. I am not regulated by the FSA. No advice.
---
---

J D Wetherspoon plc owns and operates pubs throughout the United Kingdom and Ireland. The Company aims to provide customers with food and drinks. The Company operates a trading estate of approximately 895 pubs. The Company operates over 40 hotels and approximately 900 rooms. The Company's hotels include George Hotel, the Shrewsbury Hotel and the Unicorn, Ripon. The Unicorn, Ripon consists of over 32 bedrooms in North Yorkshire. Its hotel rooms provide unlimited free wireless fidelity (Wi-Fi) as standard and its staff member provide assistance around the clock. The Company's hotels have adjoining pubs, serving breakfast menu and Wetherspoon dishes, and club nights. The Company offers a range of food, such as burgers, desserts, steaks, and salads and pastas. Its food menu includes Breakfast Club, Deli Deals, Small Plates, Sharers, Burritos, Pub Classics, Fresh From The Grill, Chicken and Ribs, Burgers and Dogs, Sides, Mexican Monday, Steak Club, Chicken Club, Curry Club and Fish Friday. more »

LSE Price

GAN plc, formerly GameAccount Network plc, is a provider of enterprise online gaming software, operational support services and online game content development services to the casino industry. The Company's segments are business to business (B2B) and business to consumer (B2C). The Company is engaged in the provision and development of real money gaming software and the supply of Internet gaming systems to the online industry, and the provision and development of simulated gaming software and underlying systems to casino operators in the United States and other international markets. It offers GameSTACK Internet Gaming System, which is licensed to online and land-based gaming operators. The Company also licenses gaming content to a range of United Kingdom, Spanish and Italian gaming operators. In New York, the Company offers a Simulated Gaming Website, www.EmpireCityCasino.com. It offers a virtual reality (VR) simulated gaming application, containing Class III slot machines. more »

LSE Price

The Character Group plc is a toy company. The Company is engaged in the design, development and international distribution of toys, games and gifts. Its geographical segments include other EU, UK and Far East. It designs and manufactures toys based on television, film and digital characters, and distributes these products in the United Kingdom and overseas. It also distributes finished products in the United Kingdom developed by overseas-based toy producers. Its diverse product range includes products for pre-school, boys, activity and girls. The Company's brands include Peppa Pig, Little Live Pets, Teletubbies, Minecraft, Scooby Doo, Mashems, Fireman Sam and Ben & Holly. Its customer list includes the United Kingdom toy retailers, the United Kingdom independent toy stores and a selection of overseas distributors. It operates approximately two distribution warehouses located near Oldham, Greater Manchester. It primarily distributes products sourced from overseas third parties. more »

LSE Price