Small Cap Value Report (Thu 19 Apr 2018) - DEB, MTC, GATC, XSG, SPRP, FCCN
Good morning, it's Paul here.

Please see the header for stocks I am looking at today.
---
Share price: 23.15p (down 0.7% today, at 11:09)
No. shares: 1,227.8m
Market cap: £284.2m
Debenhams plc, the international department store destination, today announces interim results for the 26 weeks to 3 March 2018.
I don't think DEB is investable in its current form. The figures are poor;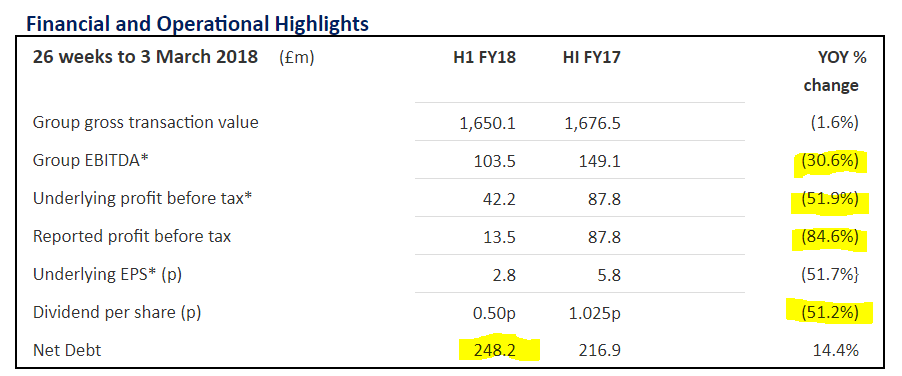 I don't accept the "underlying" figures. My reason being that the group is in a permanent state of re-organisation. Hence re-organisation costs are normal, not unusual. So the figure I'm focusing on is the near-breakeven profit of only £13.5m for the half year (which includes busy Christmas trade, so should be much higher).
Dividends - the interim divi has been slashed by just over half, to 0.5p. Given the precarious finances, they should not be paying divis at all. I suspect this 0.5p might be the last divi that DEB shareholders receive.
Like-for-like (LFL) sales - fell by 2.2% (constant currency was worse, at -2.8%). This is not good enough, because LFL increases are necessary to offset widely publicised higher costs, for all retailers. In mitigation, severe weather caused the closure of many shops in the last week of February. This is estimated to have reduced LFL sales by c.1.0%. So adjusting for that, which is an extreme event, LFL would have been down -1.2% - not good, but not a disaster either - plenty of retailers did worse than that, over a period when consumer real incomes were under pressure.
Trends - the problem DEB has, is that the trend is very much not their friend. It seems only a matter of time until the company becomes loss-making. That could lead to a withdrawal of borrowing facilities. So balance sheet strength is the key issue. For that reason, I'm not really interested in all the narrative explaining what they're trying to do to improve performance. They're trying to push water up-hill, in my view.
Balance sheet - this is worryingly weak, and has never recovered from the scourge of private equity - which hollowed out & geared up its balance sheet some time ago.
NAV of £890.4m is a mirage, as it's flattered by…

Unlock the rest of this Article in 15 seconds
Already have an account?
Login here