Solgold (SOLG:LSE) - General Discussion
There is not a more prospective 'copper, silver & gold exploration' play on the UK markets than Solgold (LON:SOLG) .
A bold statement but one I believe to be true.
With exploration rights sown up across Ecuador, an under developed region of the Andean Copper Belt due to it's jungle backdrop, new technological advances will allow exploitation of these resources by a country that is pivoting from reliance on the oil and gas industry for it's GDP to the mining sector. A friendly government and legislative structure is now in place. New management at Solgold (LON:SOLG) are now pushing ahead by resolving previous disputes and advancing the Cascabel project with strong institutional backing from major mining industry players also in place.
Well funded regional exploration programme across many highly prospective areas that are geologically similar to the proven resources at the Cascabel project currently being developed. RNS out today showing this is still expanding with the market reacting well.
https://mcusercontent.com/43b6...

I have held for a long time >6 years, adding and selling along the way for good profits. It has always been a core holding of mine and will remain so.
For those interested in resource plays I urge you to DYOR. In the current investment environment, I'm surprised it's not mentioned more often when resource plays are discussed. I'd be interested to hear from holders, interested parties, sceptics or anyone else in the comments section. Let's talk about Solgold (LON:SOLG) !!
https://twitter.com/solgold_pl...

For the technically minded, on the monthly chart below there is a large accumulation structure, the eventual breakout >47p should be significant.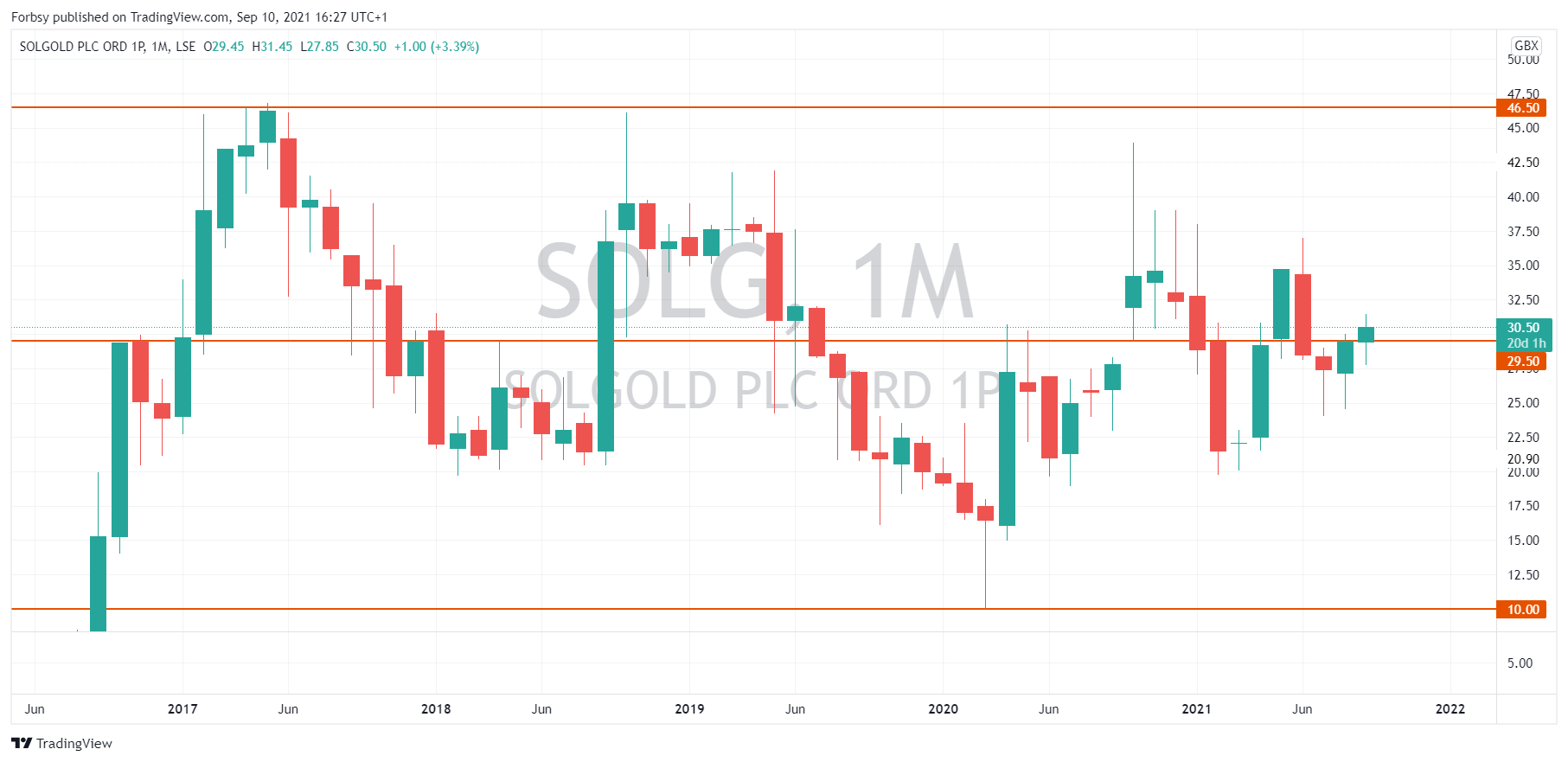 Unlock the rest of this article with a 14 day trial
Already have an account?
Login here