Bit annoyed as have to rewrite this as the Stockopedia system crashed as I was trying to post it....

Somero 280p
Mkt Cap £156m
StockRank 96

The important bit is that there has been a pickup in trading at the end of H1 and the Group is on track to meet market expectations

The US, the Group's largest region saw revenues down a bit in H1. This weakness had perplexed me after the AGM statement and I had mentioned it to a fund manager friend. He said he had met the CEO recently and that Jack Cooney had mentioned that the US had been wet over H1. I went to NOAA to verify this https://www.ncdc.noaa.gov/temp-and-precip/us-maps/3/201705#us-maps-select  (have a look at the precipitation maps)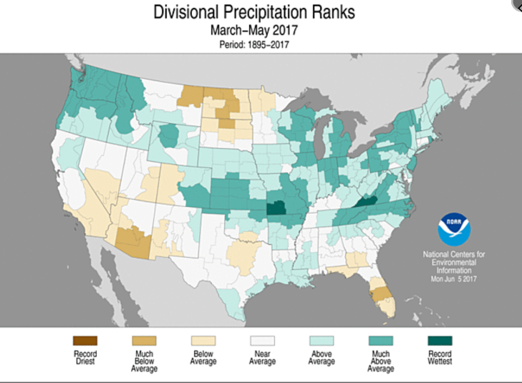 Well it turns out it has been REALLY wet in Spring 2017. It was the 11th wettest Spring in 123 years. Why didn't the Group or its advisers think to mention this at the AGM ? It would have explained why they were optimistic about the second half. This data point would have had good explanatory power.

Europe sounds like it is going gangbusters and Latin America and RoW (which doesn't include China) are also growing nicely. Not much more quantitative data is given. I am not sure why not, As an aside regarding data on the Group, I think management has put so much into improving trading in the last 4 years that it has really neglected certain, non operational parts of the business like the Investor Relations website. Have a look here https://www.somero.com/investors/investors/. Companies like Somero need to be aware that MIFID II will see less research available for small caps and that they need to go the extra mile to help investors, both institutional and retail. Somero just gives the bare minimum. Management teams must realise there is a competition for investor capital. Investors have hundreds of companies to choose from, so if they cant easily get data regarding a company, what it does and why to invest, they will go elsewhere. If you see management, please tell them ! The difference that companies like H2Glenfern, Heartwood Partners and Oakhall Advisers make when they help companies to communicate to investors is noticeable is both the results and shareprice.

Overall the shares trade on 13x 12 month forward earnings and have net cash on the balance sheet and due to special dividends, the group yields c4.5%. I remain a holder, but I am vigilant that the US non residential construction cycle needs to hold up. I will continue to monitor the data.



Disclaimer:
As per our Terms of Use, Stockopedia is a financial news & data site, discussion forum and content aggregator. Our site should be used for educational & informational purposes only. We do not provide investment advice, recommendations or views as to whether an investment or strategy is suited to the investment needs of a specific individual. You should make your own decisions and seek independent professional advice before doing so. The author may own shares in any companies discussed, all opinions are his/her own & are general/impersonal. Remember: Shares can go down as well as up. Past performance is not a guide to future performance & investors may not get back the amount invested.
---
---

Somero Enterprises, Inc. is a manufacturer of laser-guided equipment. The Company's equipment automates the process of spreading and leveling volumes of concrete for commercial flooring and other horizontal surfaces, such as paved parking lots in North America. The Company's products include S-22E, S-15R, S-15M, STS-11M, S-840, S-485, CopperHead XD 3.0, Mini Screed C, PowerRake 3.0, 3-D Profiler and SiteShape. Its Somero Floor Levelness System monitors Laser Screed performance, operator performance and reports alert percentages of issues. The Somero SiteShape System allows for grade shaping automatically using users' motor grader, dozer or other grading machine. The Somero 3-D Profiler System allows automatic paving of contoured sites using a Somero Laser Screed equipment. The CopperHead XD machine encounters applications, such as chaired rebar, low slump and poor subgrades. The Somero eXtreme Platform (SXP) allows users use their Laser Screed equipment. more »

LSE Price