Sprott Physical Uranium Trust Offers Long-Term Profits
Summary
There are close to 100 new power plants that will be constructed with a gross capacity of 100,000MWe.
Over 300 more new power plants are proposed waiting for approval which mostly will be located in Asia where fast-growing economies and increasing energy need.
Increased nuclear capacity in countries like USA, Switzerland, Spain, Finland, and Sweden.
---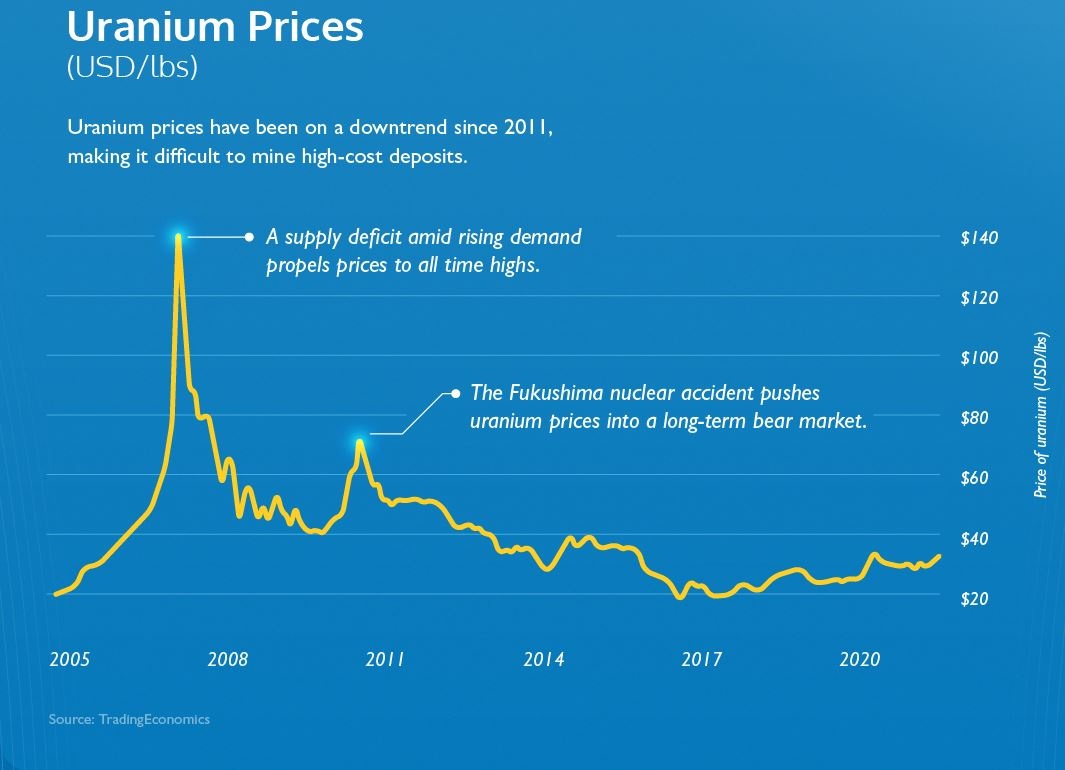 Uranium prices have been on a downtrend since the Fukushima accident in 2011, however, since there are limited clean energy resources, solutions like solar panels and wind turbines are not efficient enough to power modern cities and their increasing energy demand. On the other hand, nuclear power is capable of powering cities if done properly, and with the evolving technology, countries are back on building nuclear reactors.
There are 54 nuclear reactors under construction and 100 new reactors are planned in 17 Countries with an addition of 325 reactors proposed in 31 Countries.
Currently, 444 reactors are operating worldwide and with increasing nuclear reactors, the demand is possible to increase higher than 200 million lbs by 2040. It is important to note there are 3 major uranium producers in the world that supply 70% of the world's uranium needs.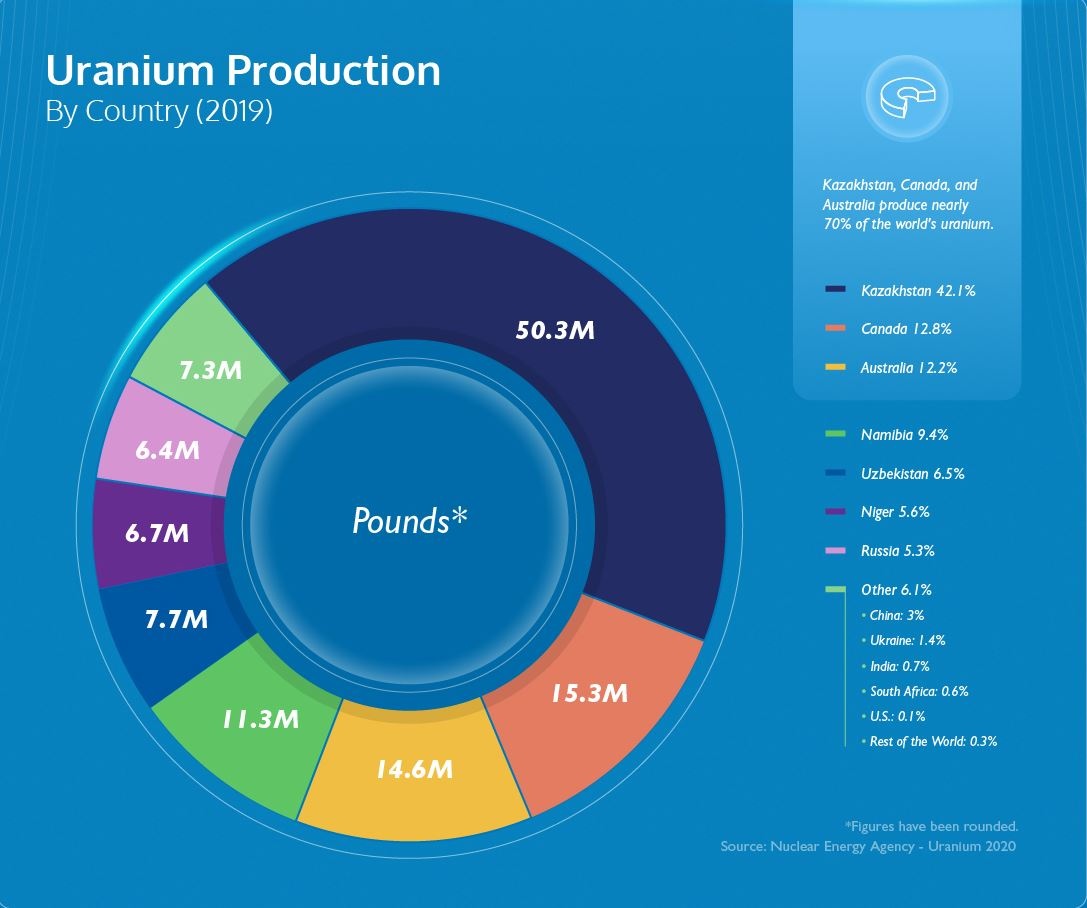 The biggest producer of uranium is Kazakhstan with 42.1% of production, Canada is the second-largest producer with 12.8% and lastly, Australia with 12.2% is the third biggest producer country.
Kazatomprom is the world's largest uranium producer, located in Kazakhstan plans to keep production flat through 2022 and 2023 due to its profitability concerns.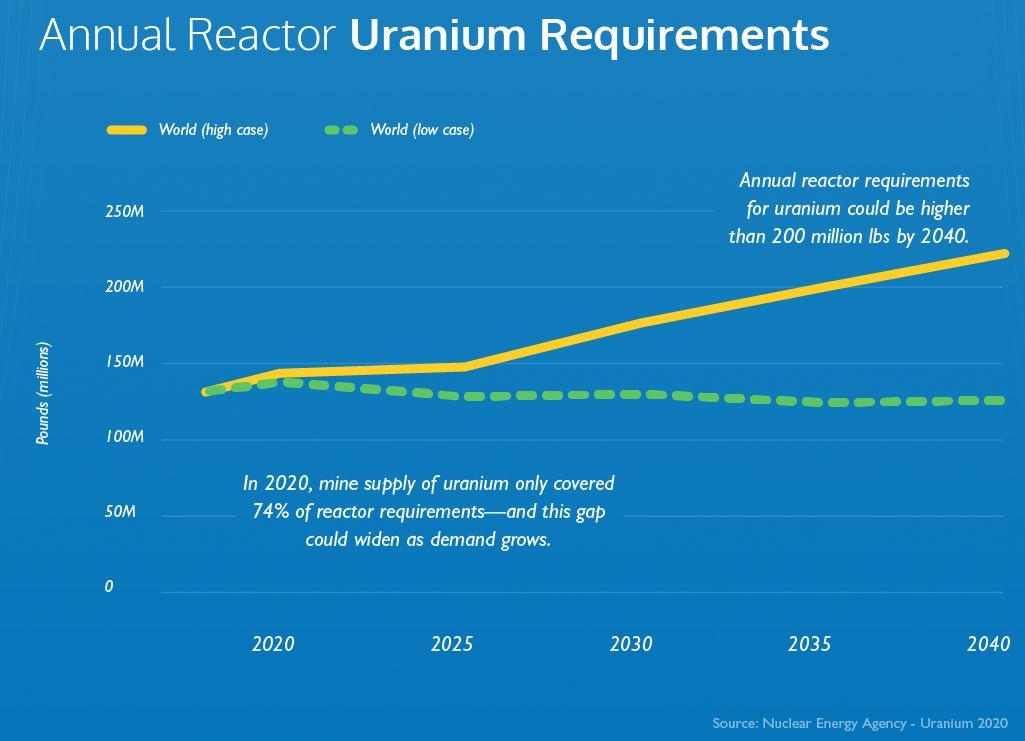 Considering the fact that there is already a deficit that drove prices higher in 2021, with the increasing demand, it is reasonable to expect the deficit to widen and prices to continue to rise in the upcoming years.
Additionally, it is costly to mine uranium and mining companies are likely to increase production when prices increase, it is important to look at this situation from an accurate point of view. Increasing supply due to increasing prices is very unlikely to drive prices down in the long term but more likely to keep prices steadily increasing since the demand will keep growing at the same time. Nuclear power is at its growing stage and at this stage, both prices and production can keep moving up at the same time until there is a surplus which seems unlikely in the coming years.
FUTURE OF URANIUM
 …

Unlock the rest of this article with a 14 day trial
Already have an account?
Login here