Sprue Aegis plc - Can't Switch Off the Alarm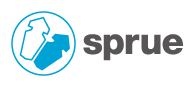 Share Price  97.5p (-26.6%) -35p
Bid/Offer 95p/100p                   NMS 1,500
Market Cap £47.3m                  No. of Shares 45.9m
Enterprise Value £44m
PS (To avoid any doubt, I own this stock as part of a diversified portfolio)
2017 Full Year Results
The full results for y/e 31/12/2017 while unduly late were well flagged in advanced for good reason.  The pre-tax profit of £4.7 million would have beaten market expectations except for the late exceptional charge that arose a few days before the results were due to be issued.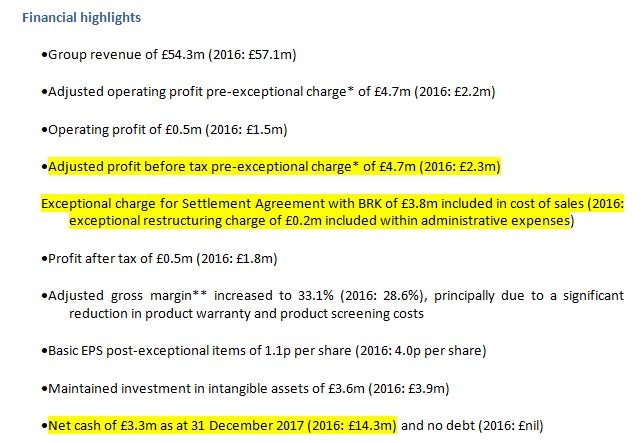 Link to Final Results for the year ended 31 December 2017

Looking forward to 2018
Past performance should not be a guide to future performance applies to Sprue Aegis as the company faces increasing challenges with a sharp gear change in costs post the BRK distribution and manufacturing agreements and now attempting going it alone.
The next 12 months as an independent entity is likely to be rough going.  Seven negatives come to mind.
1. Foreign Exchange Rate Risk
Foreign exchange losses  given that the company sources products in dollars and pays in a weaker sterling. The sourcing products in USA dollars from Flex and the Far East supplier will increase the Group's product costs in the short term at the Group's budgeted exchange rate of Sterling / USD 1.40.   The average Sterling / USD exchange rate in 2017 was 1.30.  The company does hedge forward currency on a month by monty basis for the next six months.
The Group continues to generate significant amounts of Euros in excess of its Euro payment requirements and is exposed to movements between GBP and the USD which can significantly affect the Group's product cost of sales and Sterling and the Euro which affects its margins on sales into Continental Europe.  
2. Expected First Half Losses
The company will report an operating loss for H1 2018 and full year results will be significantly below full-year expectations.  So far sales in the first 4 months to 30 April 2018 are approximately 20% lower than in 2017. This is primarily because of lower sales into Germany with one particular contract and the stock disruption…

Unlock this Article with a 14 day free trial
Already have an account?
Login here