Still On Script – A Market Rally And Then a Bear Market
Updated 4/12/2018 from March 25, 2013

The market always seems to find a way to follow the historical script. Just two weeks ago, as discussed in my blog Shades of 2000, the market seemed poised to go off script as it inched just above the -2.6% mark from its January 26 high. As discussed in my blog Not Out of the Woods[1], major bear markets always drop before roaring back one last time. In the past, if you take out the 1929 market which was short of its initial peak by 7.4%, this last rally took the market within 2.6% of its previous high up to 2.9% above it. All major bear markets that, like us, had a correction prior to its last rally took at least 2.9 months from the first to the second peak. For us that would mean sometime after April 20. Therefore, the market was threatening to go off early.

Who would have thought that international trade would come along to nudge the market back into track? But that is just what happened thanks to President Trump's tariff rhetoric. I guess Roseanne Roseannadanna was right - if it's not one thing, it's another. Worries about the Fed raising rates three more times instead of two persist, and Facebook's snafu added to the mix of bad news. There is a lot of uncertainty with a new leader at the Fed helm, Jerome Powell. Still, the Fed's statement, after raising rates the expected 0.25% this past Wednesday, March 21, held no surprises. And Facebook is just one stock, although it spread a bit of contagion fear among high flying techs. So, the main contributor seemed to be worries higher tariffs would drive corporate costs up while a tariff war would make U.S. products more expensive and less competitive overseas. Both of those would impact corporate bottom lines.

Back on Friday, March 9, when the market inched up to within 3% of the January 26 peak, I warned that the Dive chart[2],[3] had not yet regained its lower channel and there was every chance the market may dive again. This Friday's Dive chart, March 23, shows the market never regained its lower channel so this past week's drop was not surprising.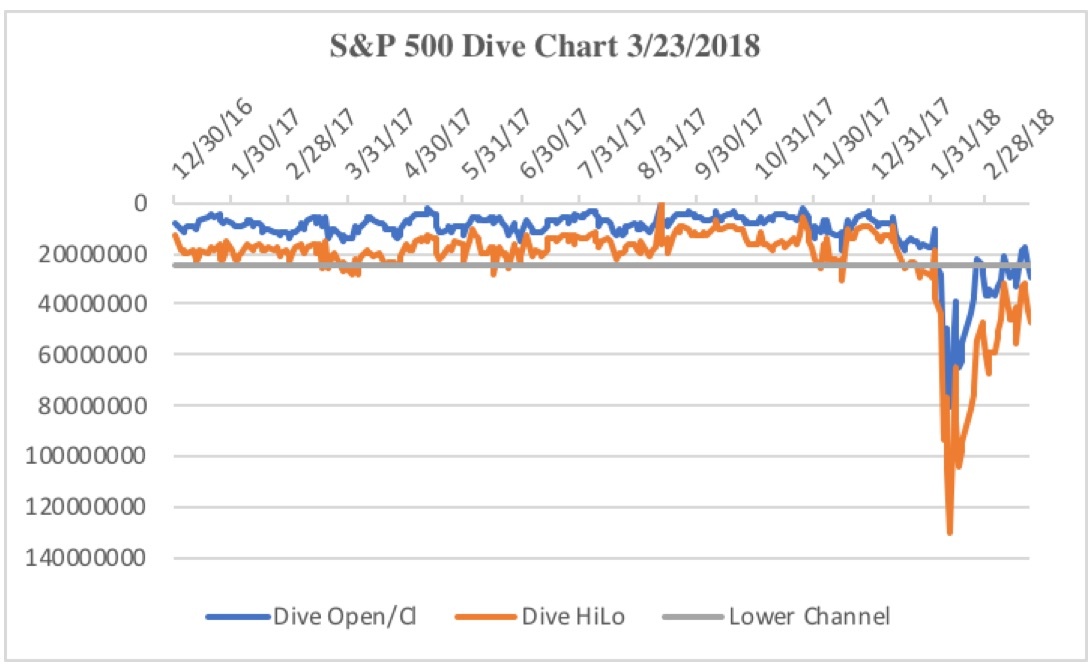 Nevertheless, I am concerned about the market's move in the interim. On Tuesday, March…

Finish reading with a 14 day trial
Already have an account?
Login here