Stock in Focus: I'm troubled by ESG and surprised by Impax Asset Management
I'm a firm believer in a quantitative approach to investment - relying on the power of data and proven factors to select stocks. One of the things I like about investment is the intellectual challenge of the process and the way in which it can be abstracted from day-to-day life.

However, by detaching myself in this way, I wonder whether I'm doing my full duty as the part-owner of a business. Focusing only on a company's numbers can make it uncomfortably easy to condone things for which I wouldn't want to take personal responsibility.
I don't claim any kind of moral high ground here. I've profited from owning shares in a number of businesses that I wouldn't want to work for. But I'm starting to wonder whether I'm comfortable with this situation, or if I need a more structured approach to ethical and environmental issues.
I've been having a think about how I might do this, and have come up with three options.
DIY: As a general rule, I only invest in stocks that I've selected myself. I don't generally buy funds, either. 
Logically, if I wanted to take ethical investing seriously, I'd have to understand the issues, do my own research, and form my own ranking system. 
That sounds like a lot of work, unless I could use tools such as Stockopedia to develop a screening system that recognises ESG (Environmental, Social and Governance) factors. This would be an interesting project, but I'm not yet convinced that I could make meaningful ESG judgements from financial data alone.
The index tracker option: ESG investing is increasingly on institutions' radar. Index providers such as MSCI and FTSE Russel have developed ESG scoring frameworks and related indices to facilitate investment in well-ranked companies.
However, the top holdings from each provider's UK ESG indices suggest heavy concentration, and very few obvious themes: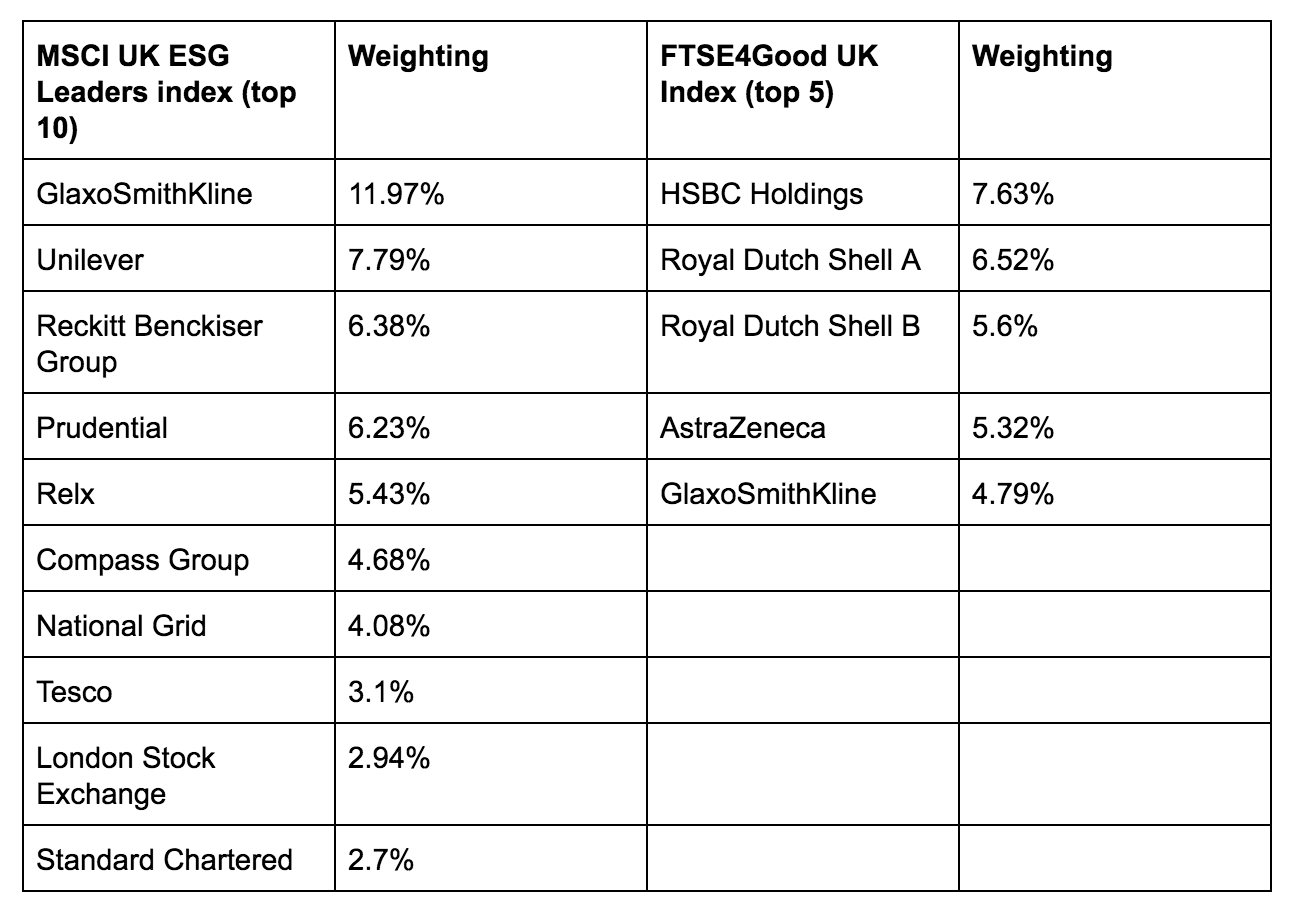 Source: MSCI UK ESG Leaders Index factsheet, 31 July 2019, FTSE4Good Index Series factsheet, 31 July 2019.

Judging from these stock selections, FTSE and MSCI use very different sets of criteria to score firms for ESG. This highlights one problem with ESG investing -- existing rating systems appear to be highly subjective and inconsistent. 
I own several of these stocks and would be happy enough to own most of the others. But I'm not sure I'd describe…

Unlock this Article with a 14 day free trial
Already have an account?
Login here