Stock in Focus: Is Anexo Group the next Burford Capital?
Unfortunately I'm not able to make it to Mello this week, but I did attend the Mello event in May. One of the more intriguing presentations I saw was from credit hire and legal services firm Anexo Group (LON: ANX).

This AIM-listed firm only floated in June 2018, but was pointed out to me by a very experienced investor, who noted that it had a vast backlog of trade receivables and was - potentially - undervalued. 
Mello is a great place to meet up with investors who are smarter than you are and to learn from them. So I attended the Anexo presentation at Mello to find out more. It was an odd experience. The presentation itself was clear enough. But I was one of several investors in the room who couldn't understand how such a bizarre business model could ever be so successful.
I'll come back to the group's business model in a moment. But first I should point out that Anexo shares have done pretty well since last year's IPO, delivering a tidy 70% gain to date: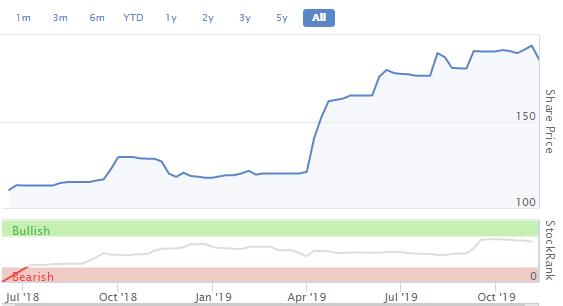 Perhaps I was wrong to be sceptical? Could this business be a mini-Burford Capital in the making?

Happily, I've now got the perfect opportunity to find out more, as Anexo Group has qualified for my Stock in Focus screen. So this week I'm going to take a closer look and decide whether to add the shares to the SIF folio.
(For newer subscribers - welcome. The SIF Folio is a Stockopedia fantasy fund which I also mirror with my own cash in a real money account. At present, the Fantasy Fund system is only available on the old version of the Stocko website.)
What does Anexo do?
Anexo is a legal services and credit hire firm that provides replacement vehicles to non-fault motorists who are classified as impecunious. The company previously operated under the name Direct Accident Management, but has now rebranded as Edge. It also has a legal business, Bond Turner.

The non-fault element is important so that Anexo can claim hire costs back from the at-fault party's insurer. Recovery of credit hire and repair costs for Edge is handled by Bond Turner, which also handles personal injury cases.
Unlike some rivals, Anexo doesn't take referrals from…

Unlock the rest of this article with a 14 day trial
Already have an account?
Login here