Stock in Focus: Is Shoe Zone a good fit?
Disclosure: Roland owns shares in Shoe Zone.
When investing in retailers, it's important not to confuse product quality with investment quality. Take Shoe Zone, which floated on AIM in 2014. Although the firm's business model is of the 'pile them high, sell them cheap' variety, Shoe Zone's stock scores far more highly on the quality front.
As it happens, Shoe Zone is one of the most recent additions to my personal portfolio. I purchased the stock after the June interims revealed no new problems and quite decent results.

Nothing much has happened to the share price since then, despite the recent market volatility. This makes sense to me. Although Shoe Zone's products are made in China, its customers are all in the UK, where the economy appears relatively stable.

Like Poundland, Aldi and other cheap retailers, Shoe Zone appears to have found a successful formula for high street growth. In this article I'll ask whether this seems likely to translate into shareholder returns.
What about investment appeal?
Shoe Zone's frugal appeal certainly stretches beyond its footwear.
Stockopedia gives the firm a StockRank of 87, with value and quality ranks in the mid-80s. This gives the firm a QV Rank of 95. As a value and income investor, I often use the QV Rank as an initial filter to highlight companies in which I might be interested, as they tend to fit my investing criteria.
Interestingly, Shoe Zone's profit warning earlier this year has left the shares trading at almost exactly their IPO price. Thus investors can buy Shoe Zone shares at the initial offering price, but with the benefit of more information.
Good value
Shoe Zone's ValueRank of 84 reflects an undemanding valuation, an attractive dividend yield and a respectable level of profitability: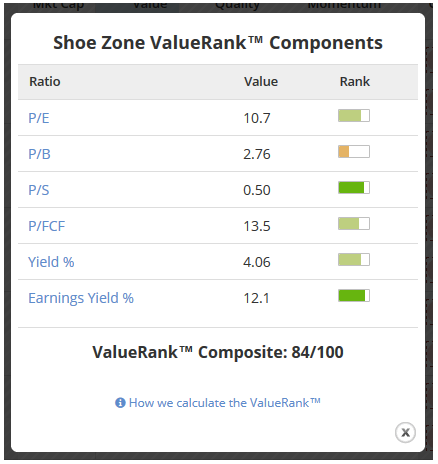 In my view, the dividend yield, earnings yield and P/FCF are the key figures here. Shoe Zone's modest P/E ratio and attractive dividend yield is backed up by solid free cash flow generation.
The earnings yield is one of my favourite ratios. It's calculated as EBIT/EV, or operating profit divided by enterprise value. In my view, this is an excellent way of assessing a company's underlying profitability, as it excludes interest and tax costs but includes the impact of debt on a firm's valuation.
I tend to look for an earnings yield of more than 10%, so…

Unlock this Article with a 14 day free trial
Already have an account?
Login here