Stock in Focus: Should I add Fulcrum Utility Services to the portfolio?
Until now, all of the stocks which have qualified for my Stock in Focus screen and been added to the SIF portfolio have had high StockRanks. Of the twelve stocks currently in the portfolio, seven have a StockRank of 90 or above and only one has a StockRank below 70.
This isn't because my screen chooses stocks with high ranks, at least not explicitly. What has happened is that the stocks which have satisfied my criteria have also generated high scores from Stockopedia's ranking algorithms.
However, low-ranking stocks do occasionally qualify. One example is Fulcrum Utility Services Ltd. This AIM-listed small cap has a StockRank of 47, but has nevertheless made intermittent appearances in my screen.
This week I'm going to evaluate whether to add Fulcrum to the SIF portfolio.
A defensive addition?
I've discussed my chronic shortage of defensive stocks in previous weeks' columns. My conclusion was that many genuinely defensive businesses are either overpriced or delivering very little growth at the moment. Hence why few have qualified for my screen.
As a utility sector stock, Fulcrum should help to address this imbalance. But does it?

Fulcrum isn't really a utility. The company's is an infrastructure provider whose business is to fill the gaps between electricity and gas distribution networks, and meter installations. For example, Fulcrum will connect up a new housing development or factory to the electricity and gas grids.
The group also has a gas transporter licence, which allows it to own and operate pipelines that deliver gas to customer premises. Such activity introduces a small element of utility-like recurring revenues to the group's business. This could be attractive over the longer term, I feel.
However, it's clear that the majority of Fulcrum's income is linked to new-build projects. As such, I feel it compares more closely to companies such as Costain than to utilities.
Is it profitable?
Fulcrum floated on AIM in 2010 and proceeded to deliver a string of losses. However, management changes followed and things improved dramatically during the 2014/15 financial year, when Fulcrum moved into profit.
Although revenue has only grown modestly, the group now appears able to convert these revenues into decent profit margins and cash flow.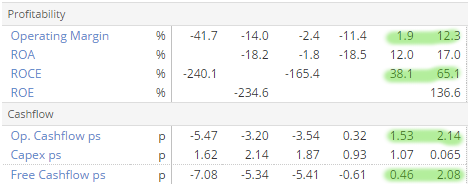 Fulcrum shares have doubled over the last year but remain modestly valued, on 12 times forecast earnings…

Unlock the rest of this Article in 15 seconds
Already have an account?
Login here