Stock in Focus: Why I'm holding onto Next
There are no new stocks to add to the SIF portfolio this week. So I'm going to take a look at the numbers behind a stock that's grabbed a lot of headlines recently. It's one that also features in my own portfolio.

The market has become increasingly divided over the investment case for fashion retailer Next. Speaking personally, I bought shares during the first half of this year, at prices between £38 and £42.
As the year rolled on, this looked like a smart move. Next's cash generation has remained robust, resulting in an expected yield on cost for me of about 8% this year. The firm's profit guidance has also gradually firmed up, leaving the stock looking affordable on around 11 times earnings.
At the same time, costs appear to be under control and the group looked well positioned to take advantage of falling rents. My thinking was that performance wouldn't have to improve by much in order to trigger a decent re-rating.
The jury's out
I started to develop niggling doubts after the firm's interim results were published. One reason for this was that it became more obvious that the group's retail business may end up in a state of managed decline that could last years. Group profit and cash flow would remain positive, but might never increase.
My second concern was that I noticed an unexplained change in the information provided in firm's financial reporting. Over the years, I've come to regard this as a useful warning flag. Such changes are usually the result of a considered decision by senior management.
For example, by changing the data that are reported, adverse trends can sometimes be disguised or presented in a more positive light.
What I noticed with Next is that the firm appears to have stopped breaking out the financial details of its Directory credit operations.
I won't discuss this at length, as I added a comment explaining what I'd found to Paul Scott's coverage of the 1 Nov trading statement. But in short, the company used to include a breakdown of Directory financials, showing how much Directory profit was derived from interest payments, rather than sales. The last time this was included was in the 2016/17 interims, shown below: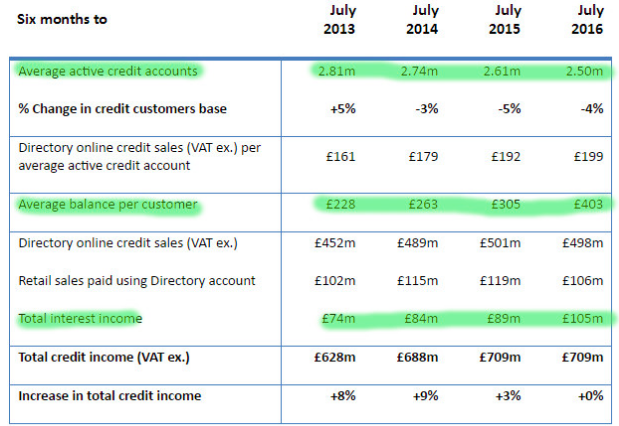 I haven't sold any Next shares yet. But I have to confess that…

Unlock the rest of this article with a 14 day trial
Already have an account?
Login here