Stock in Focus: Will Woodford woes provide Paypoint buying opportunity?
The troubles affecting Neil Woodford were hard to ignore last week. And although I don't think this is the place to comment on Mr Woodford's situation, I have been cross-referencing my portfolio with the Woodford Equity Income fund.

I'm interested to see whether any forced selling by the fund manager could create an opportunity for me to top up my own holdings at attractive prices.
As far as I can see, I only own two stocks that feature in the Equity Income fund. One of these is newly-promoted FTSE 250 payment processor PayPoint (LON:PAY). This stock doesn't feature in the SIF Folio I run here at Stockopedia, but is a part of my main (personal) income-focused portfolio.
As it turns out, PayPoint also comes very close to qualifying for my Stock in Focus screen. So in this piece I'm going to take a brief look at the attractions (and risks) of this high-yield favourite.
The UK's biggest retail network?
PayPoint operates a network of payment terminals in convenience stores and corner shops. Its network was originally setup to allow customers to make cash payments for utility bills and mobile top ups. But as demand for cash bill payments has fallen, the company has started to evolve.
The firm's terminals are now able to provide a fully-featured point-of-sale system for small retailers. The latest PayPoint EPoS system replaces a conventional till, providing support for card payments, a cash drawer, inventory management, reporting and even ordering stock from selected wholesalers. Other services for customers include cash withdrawals and the Collect+ parcel service, which is run by PayPoint.
In the UK, the group's network now includes 28,000 stores. I estimate this as being more than half the addressable market, when supermarkets are stripped out: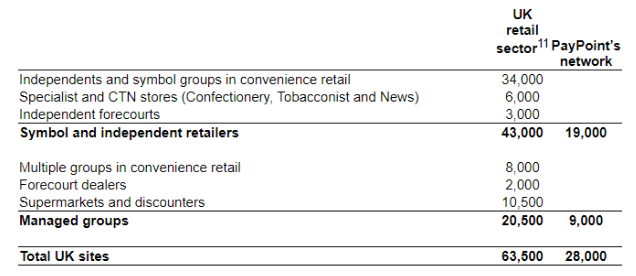 PayPoint is keen to point out that its network is larger than the Post Office, and larger than any UK bank or supermarket. Apparently, 99.5% of the UK's urban population lives within one mile of a PayPoint retailer. In rural areas, 98.5% of people live within five miles of a retailer. The company also has a network of c.18,500 sites in Romania, where cash remains much more dominant.

My view is that such broad market penetration is likely to remain a valuable asset, if combined with good management and technical innovation.
Interestingly, long-time CEO…

Unlock this Article with a 14 day free trial
Already have an account?
Login here