Stock Market Spreads on a random Wednesday

The 'spread' this post talks about is the difference between the quoted bid (selling) price and the ask (buying) price. Another use of the term 'spread' is the daily range between high and low. That spread is an entirely different one.
Why is 'spread' of potential interest? If the spread is 5% then (ignoring costs) to break even you need a 5% price rise . If the share fell by 10% from the purchase price and a stop loss was triggered then you would lose at least 15% on your purchase price.
A similar share with a 1% spread would be 4% in profit and would lose 11%. So spread makes a difference.

Of course it isn't as simple as that, as although spreads are relatively stable they fluctuate during uncertainty and volatility, especially at the 'open'.
However, if you trade frequently and rely on stock turnover at low margins then spread should be of concern (as I mentioned stock turnover and margins is this now also a fundamental analysis post?). Large spreads make any investment or trade less profitable, everything else being equal. The larger the spread the greater your conviction should be to consider trading it.
Yesterday (a Wednesday) around 3pm, I downloaded data for ordinary shares for some exchanges. The charts which follow summarize the relationship between Market Capitalisation (in £) and Spread at that snapshot in time.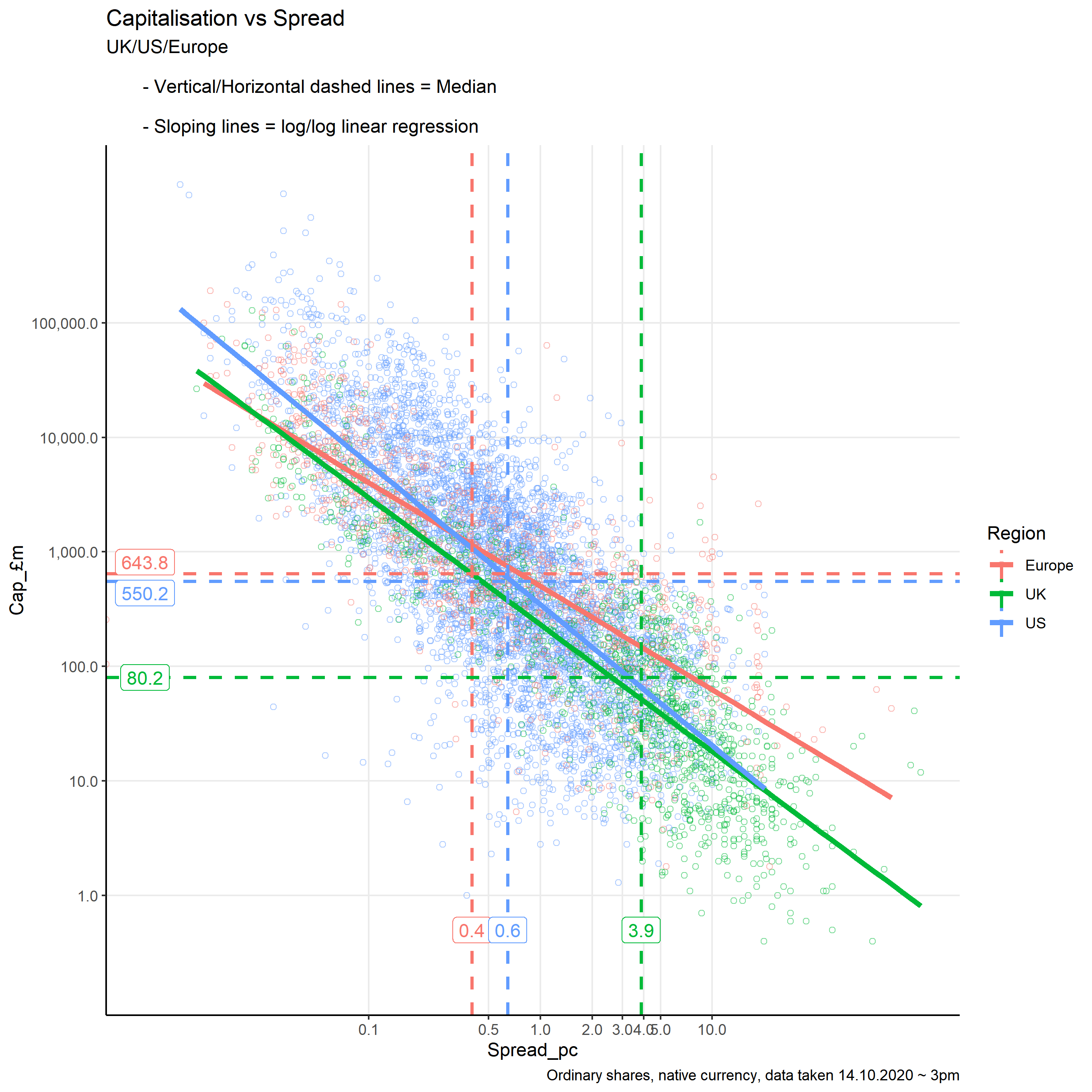 I was surprised at the consistency of the regression line slope for each region. The low median Market cap and high Spread for the UK are explored next.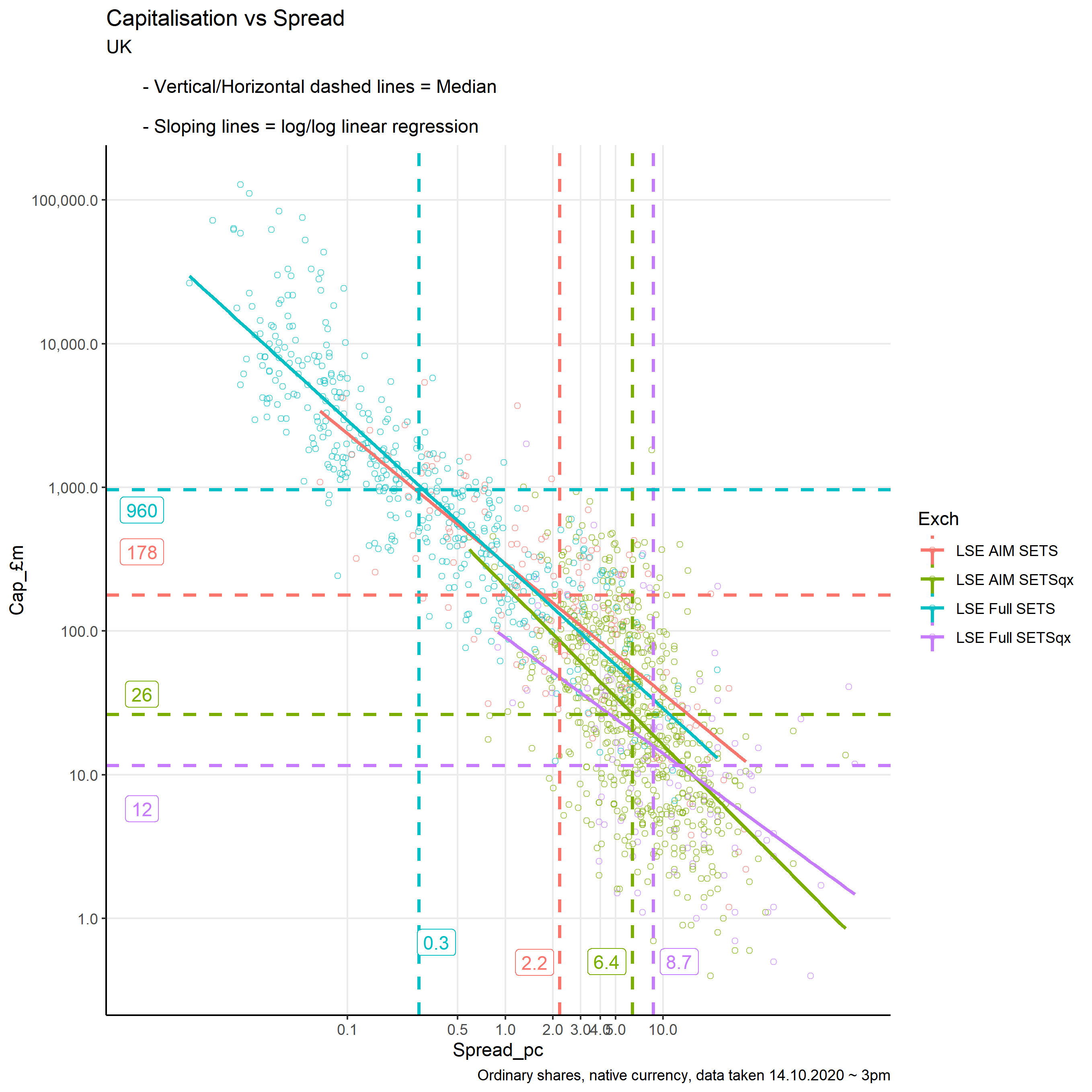 I'd initially assumed AIM would be where any issues emerged, however, it is SETSqx that is revealed to be dominated by high spreads (no surprise as this is for less liquid companies). There be dragons.
I started this as I was considering switching my Euro account to a US one. I'd found European markets difficult to trade and volatile. So here are some European Euro based markets. The key is ordered by sum of market cap (for ordinary shares). Very crowded chart but nothing really to learn and it confirms that except the relationships are relatively stable.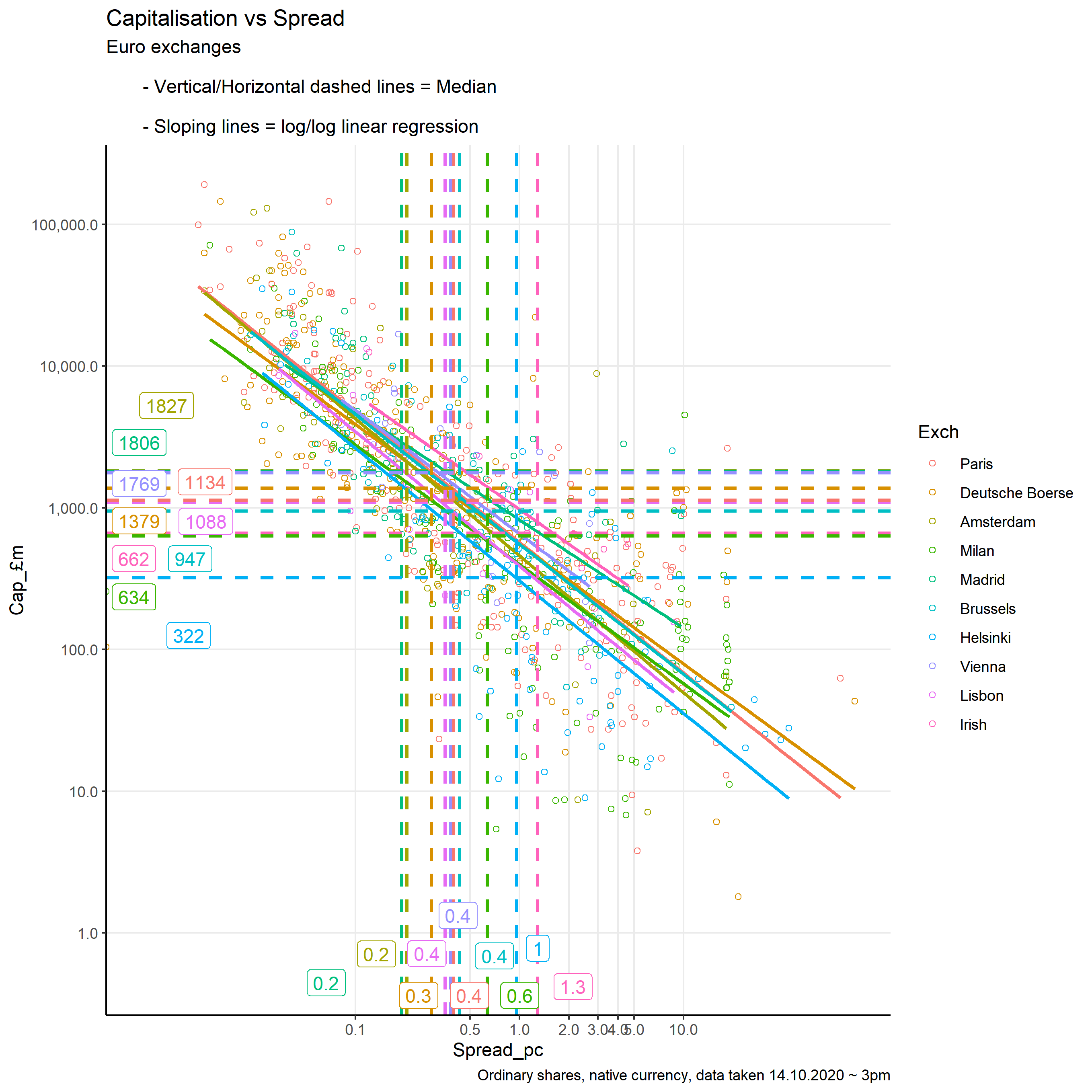 Spreads actually looked good at 3pm. It must just have been the ones I picked! However,…

Unlock the rest of this article with a 14 day trial
Already have an account?
Login here