Stockopedia USA has landed
Of all the times to be launching an investment research service on US stocks, the tail of a five year bull market may seem like the worst. Valuations in the US have reached highs not seen in many years and plain thinking suggests that the next five years may offer much more moderate returns than the last five.
But, as every wood is made of individual trees, the stock market is made of individual stocks and the best market for stocks to grow and thrive will perhaps always be the USA. As Warren Buffett recently mused: 
"I have always considered a 'bet' on ever-rising U.S. prosperity to be very close to a sure thing. Who has ever benefited during the past 237 years by betting against America?"
As a young British company with global ambitions, the new USA service is a huge marker for Stockopedia and our subscribers. By extending our coverage, UK investors can for the first time research the breadth of opportunity on both US and European stock markets from the comfort of our home grown research platform.  Please do check out the breadth of stocks and markets available here now in the Stockopedia directory.
So what makes the US so special?
Winston Churchill once said: "The United States is like a giant boiler. Once the fire is lighted under it, there is no limit to the power it can generate."  Our detailed investigation of US markets - from understanding what makes its corporate culture tick to the the mechanics of actually investing in it - reinforces the view that American companies represent a huge opportunity to UK investors.
Simply comparing the difference in the long term performance of the UK and US markets is staggering: American stocks have produced more than triple the real returns of UK stocks over the last hundred years: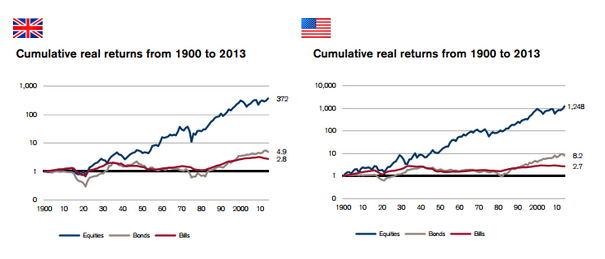 Source:Credit Suisse Global Investment Returns Yearbook 2014
So many of us spend many moments of every day with famous American brands. Apple, Colgate, Gillette, Starbucks, Google.  British household names like Tesco and Barclays consistently fail to penetrate the USA, yet the Americans seem to have no such trouble coming the other way. Why are so many extraordinarily successful businesses born in the USA?
The answer lies in a remarkable set of qualities that make America the perfect environment for incubating, nurturing and growing outstanding corporations -…

Unlock the rest of this article with a 14 day trial
Already have an account?
Login here