First of all, apologies for the pun in the title, couldn't help myself!
Secondly, I would like to thank Ed at Stockopedia, and Damian Cannon for organising the Stockslam event in London last night - it was an excellent format, and I met lots of great people including the great Paul Scott in the flesh! For note, I proposed Harvey Nash (LON:HVN) as my stock pick at this event (3-minute elevator pitch), you can read more about it in a short article I posted here on Stockopedia recently... 
Now, on to the varied attractions of Strix (LON:KETL)...
£288m market cap at present, and is an AIM100 index member. 
KETL: The ranks
First of all, the ranks - Stockopedia ranks this stock highly at a combined 89 Stockrank, led by 89 for Momentum.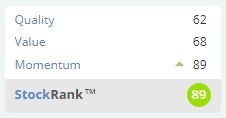 Strong EPS and price momentum
Focusing first on momentum, as it is the most timely indicator to note today - price momentum has broken out to a new high and is today more than 50% above the IPO price of 100p (at issue on August 8, 2017).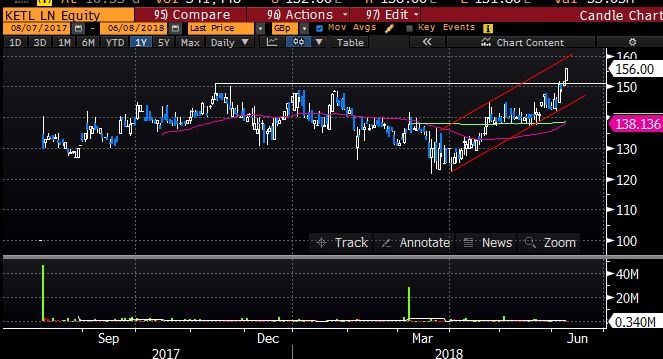 Price momentum is roughly following earnings momentum, as you can see from the broker EPS upgrade back in late April (from the house broker Zeus Capital):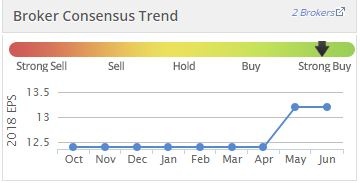 From a purely technical analysis viewpoint, the breakout from the sideways trading range that has existed since the April 2018 IPO suggests a minimum price target of 171p, versus 156p now. 
A great quality business!
On to the business model, albeit very briefly,
Graham Neary of the SCVP likes Strix, as detailed in this SCVP report: https://www.stockopedia.com/co...
Why is this? Well principally because it has great intellectual property (IP) and market share in controls for  kettles, on a worldwide basis. to quote Graham:
 It develops and produces commonly used safety controls in kettles, for which it owns the patents. HQ is on the Isle of Man, and manufacturing takes place in China.

Its numbers are in the billions. Today it reports that it sold its two billionth product late last year. Previously, it reported that its products were being used around the world over a billion times each day.
They have been aggressively defending this global IP as the company outlined on 23 May:
Strix has a portfolio of intellectual property protecting a variety of product features across its product range.  The portfolio includes over 150 patents and Strix relies on these and, where they have expired, other IP and unfair competition law to take legal action, both to defend the Company's commercial position and ensure consumer safety.  Examples of action taken in the last six months in China and Europe include:

·    As detailed in the recent Preliminary Results announcement, the China domestic market has seen an increase in electronic multi-cooker appliances and Strix will launch a revised control in H2 2018 to secure a share of this growth opportunity whilst continuing to defend its existing patented technology.  Against this background, Strix brought patent infringement claims against 19 appliances sold by Bears Electric Appliances Co., Ltd to the Shanghai IP Court which was successfully settled as set out below.
 
·    In an example highlighting the different ways the Company can protect its position concerning its older products, Strix brought a claim based on copyright law against Adriaanse Import & Export B.V. and Edco Eindhoven B.V. who had imported kettles into the Netherlands which, according to Strix, incorporated copies of its controls and connectors.  The parties subsequently settled matters as set out below.
 
·    Strix continues to monitor growing internet product sales and takes action where appropriate. The Company recently brought complaints of electronic kettle patent infringement to the attention of Amazon which swiftly resulted in five webpages being removed from their platforms across Europe.  One vendor, Kinden, settled with Strix as set out below, agreed to replace the alleged infringing electronic kettle control with a Strix product and has since been re-listed. 
Certain well-known small-cap fund managers have been building 5%+ positions in Strix, including Premier Asset Management, Woodford (Income Focus fund), my personal guru favourite Miton and Schroders.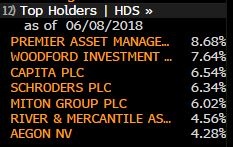 Yes, perhaps not the fastest and sexiest market in the world, but there remains plenty of potential for take-up of their product in emerging markets such as China and India...

Profitability and free cash flow generation is strong
The strong IP portfolio and global market share in kettle controls is reflected in strong profitability and robust free cash flow generation, with operating margins approaching 30% and free cash flow per share offering a FCF yield close to 10%:

And this comes after Research & Development (R&D) spending of £6.2m in the last financial year to develop yet more patents and keep their moat deep, representing a relatively high 6.8% R&D/sales ratio. 
So while net debt stands at nearly £46m as at end-2017, free cash flow generation maintained at these levels would see net debt eradicated (even after dividend payments) in less than 4 years, gradually improving the overall Quality rank.

Value as well as momentum!
We have established strong profitability and good fundamental and price momentum; but Strix also offers an attractive set of valuation measures, in my view. 
A forward P/E of 11x and a well-backed dividend (and likely to grow steadily) yield to attract income investors of 4.8% are key value attractions, while the forward EV/EBITDA ratio of 9.3x is attractive for such a profitable business. 
No wonder then that the Greenblatt Magic Formula awards Strix a 93% A+ rank!
Conclusion: a good value momentum buy, with strong profitability to boot...
Disclaimer: I have bought shares recently in Strix
Perhaps a good stock to buy on this breakout to new post-IPO highs, for those who like broker price targets, Cannacord Genuity have a 210p (+35%) price target to aim for.
DYOR as always, 
Edmund
Disclaimer:
My opinions only, not investment recommendations: Please Do Your Own Research
---
---
Strix Group Plc is an Isle of Man-based company engaged in designing, manufacturing and supply of kettle safety controls and other components and devices involving water heating and temperature control, steam management and water filtration. The Company's core products are kettle safety controls, which are responsible for disconnecting the power to the heating element when either water has boiled, operated with no water present, or in some products when the kettle is lifted off its base. Its control set series include U18/U88, R-series, KeAi-series, KeAi-set, U11 series, U17 series, U67 series and U9 series. Its Aqua Optima is a range of domestic water filtration products, including jugs, water filters and other related appliances. Its other products include steam boiler, instant flow heater and turbo toaster. more »

LSE Price