SuperDry plc - Retail Stores with LFL Sales Decline. Rebasing their Inventory.

Share price: 1188p (Friday's Close)
No. shares: 81.8m
Market cap: £972m                 NMS 1,000
Investors Edge!
Private investors don't normally have an edge in larger quoted companies. This is particularly true when compared to the access analysts and institutions may have with companies on a regular basis. Our only advantage as private investors is the interpretation of the information after the fact and the action we subsequently take.

About the Company
Superdry is a very well recognised brand known for its clothes and accessories for both men and women.  As well as innovating with new products, they update annually 5,000 products across their range.  Recent years growth rates are pretty impressive 25% CAGR revenue growth, 20% CAGR earnings growth, and 25% ROCE. 

Share Price Action

The January 10th half-year trading report read well, but shareholders were given a wake-up call regarding the slowing growth rate in LFL retail store sales of only 4.1%.  This was very much in contrast to the faster growing Wholesaling and E-Commerce areas with 20%+ growth each.
The share price fell rapidly from above 2000p down to just above the 1500p level. The market had pretty much expected the declining rate of LFL sales growth in the 4th quarter. The fact that the actual LFL sales declined at a whopping negative 6.1% rate is a worry.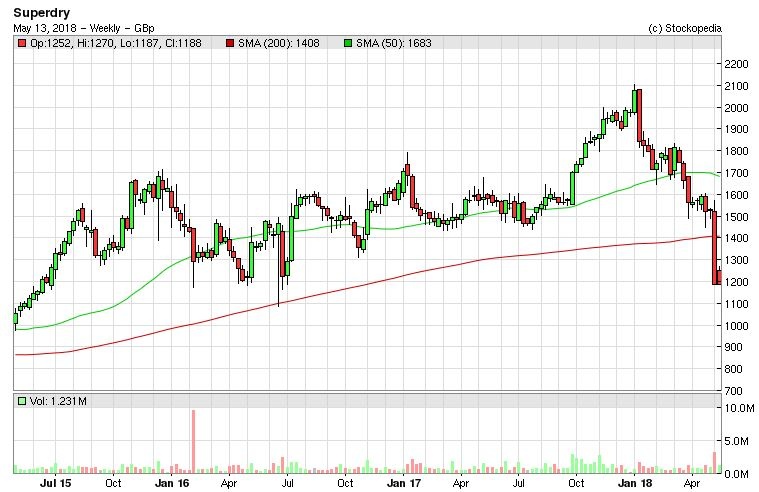 Trading Statement Highlights
Pre-close trading statement May 10th 2018.
Full-year Global brand growth at plus 22.1% year-on-year with the half year of plus 19.5%.to £1.6bn in FY18, with Wholesale (+29.6% year-on-year) and E-commerce (+25.8% year-on-year).
Full-year profit before taxation will be in the range of £96.5m to £97.5m, representing 11.5% growth.
Entry into eight new markets in the year through their Wholesale channel and the launch of additional country-specific websites for the USA and Switzerland and strengthening of their E-commerce proposition.
So Why Did the Share Price Fall?

The share price fell quickly over two days to levels last seen in June 2015.

The market fell on the negative 6% figure being worse than expected, but the main reason was the company…

Unlock this Article with a 14 day free trial
Already have an account?
Login here