Tech earnings season: $1trn disappointments
Tech giants Alphabet (US: GOOGL) and Microsoft (US: MSFT) - both of which have market capitalisations over $1trn - have kicked off the US earnings season on a slightly sour note. This time last year, both companies were reporting record earnings growth. In the three months to June 2022, they both missed the market's expectations at the revenue and profit level.
It's hardly surprising that things aren't as rosy as they were in 2021. This time last year the world was emerging from the Covid-19 lockdowns and businesses were bouncing back stronger than ever, reporting growth rates which are going to be almost impossible to replicate in 2022.
But still, Alphabet and Microsoft undershot what the market was expecting. Google's parent company reported revenue growth of 62% in the three months to June 2021, but this has slowed to 13% in the three months to June 2022. Microsoft has turned in the slowest quarterly revenue growth since 2020. We'll hear from Amazon (US: AMZN) and Apple (US: AAPL) - the two other $1trn companies in the US tech space - on Thursday after the US markets close.
Too expensive at over $1trn?
When Apple tip-toed towards the $1trn price tag, markets questioned whether it was a milestone that could ever be reached by a public company. By August 2018 - 42 years after the company was founded - it had managed it. Two years later, Apple stock was worth $2trn. And in that time, as the US tech sector bubbled to record highs, it was joined by Microsoft, Amazon and Alphabet.
When was the $1trn threshold breached?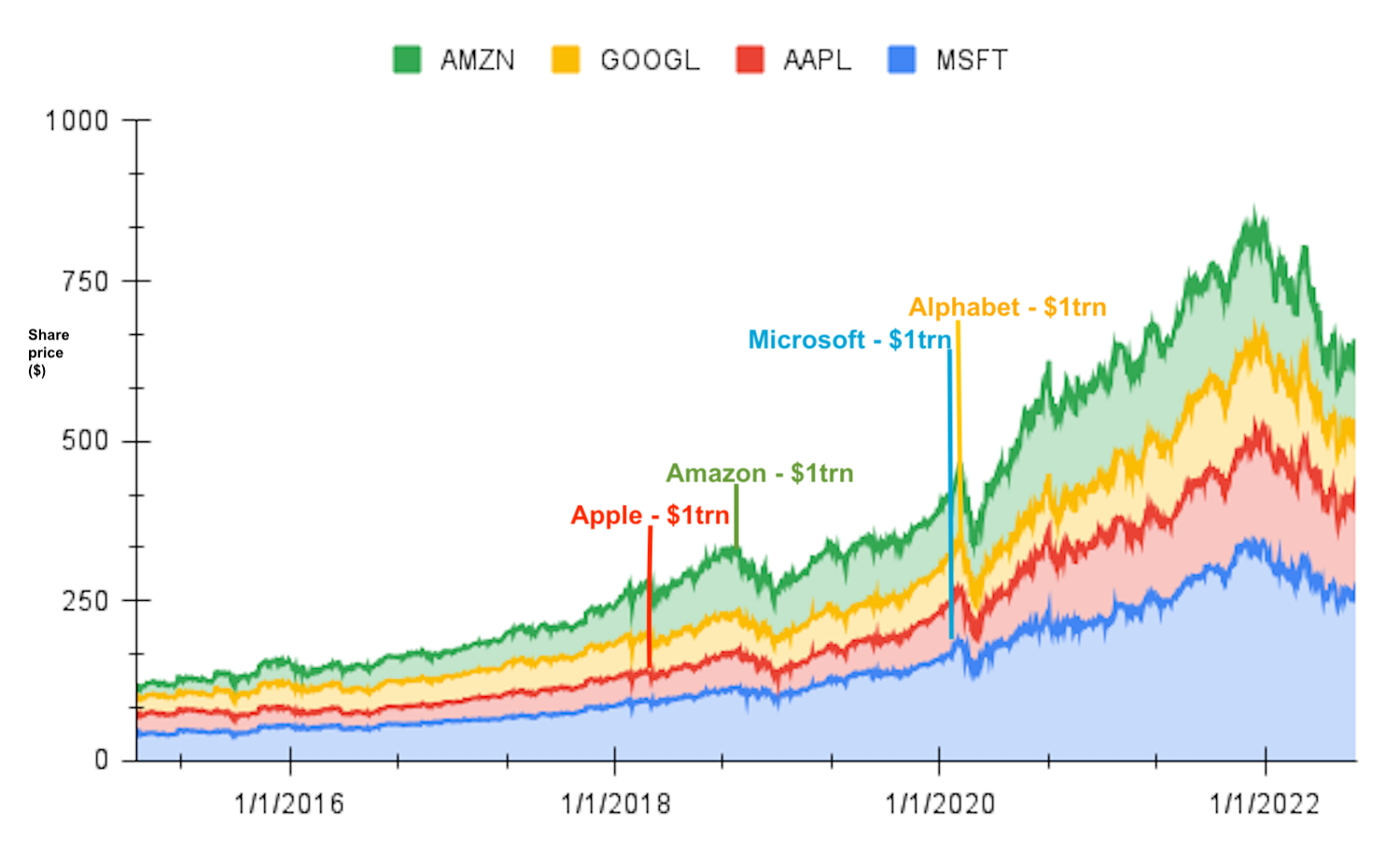 Tesla (US: TSLA) has also enjoyed a stint in the $1trn club, although its valuation has since slipped. Indeed all four of the world's most valuable tech companies have stumbled in 2022. Apple shares are down 16% in the year to date, Microsoft 25%, Alphabet 28% and Amazon 33%. But all four are still carrying meaty valuations, as shown in the table below.
| | P/E | PEG | P/Book Value | P/S |
| --- | --- | --- | --- | --- |
| Apple | 23.5 | 3.8 | 36.4 | 6.4 |
| Microsoft | 23.6 | 1.8 | 11.6 | 9.8 |
| Alphabet | 17.7 | 2.3 | 5.5 | 5.1 |
| Amazon | 67.8 | NA | 8.7 | 2.5 |
The question investors must now ask themselves is whether the four tech giants have further to fall. Are they still too exorbitantly priced? Will…

Unlock the rest of this article with a 14 day trial
Already have an account?
Login here