The 5 Key Signs of an Economic Moat
In spite of a dozen years of sideways markets that have just about ground the philosophy of buy and hold into the dust, Warren Buffett's purchase decisions are still able to turn a thousand heads. Investors know that what really interests Buffett are companies with 'durable competitive advantages' which promise enduring high returns on capital and free cashflow in his pocket.
By upping his stake in Tesco (LON:TSCO) last week Buffett was signalling his confidence in the longevity of its advantage especially as the argument for Tesco's investment case on valuation grounds alone is perhaps only moderate.
So how can we as investors learn to spot companies with durable competitive advantages?
What is a durable competitive advantage?
Buffett likened businesses to castles at risk of siege from competitors and the marketplace. Great companies are able to dig deep economic moats around their castles that become increasingly impregnable to competition and market pressures. These moats bring either pricing power or cost reductions which help sustain very high returns on capital, leading to higher cashflows and returns for investors. Clearly everyone would like to own a business with a wide economic moat but Buffett has been most systematic in tracking them down.
How to think about Economic Moats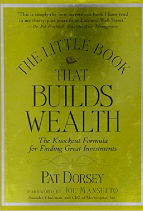 One of the best books on the subject is very small and easily digestable - "The Little Book that Builds Wealth" by Pat Dorsey of Morningstar - and comes extremely highly recommended. Morningstar have developed the concept of an economic moat into a structured framework. Essentially 'wide' moat businesses have one of 2 attributes - high pricing power or low cost advantages - which in turn lead to sustainably high margins and returns on capital investe. These advantages can be split into the following categories…
1. Intangible Assets
Intangibles are basically things you can't see - i.e. Brands, Patents and Regulatory approvals rather than tangible assets like factories or distribution systems. Intangible assets can be unique to companies and deliver fantastic pricing power.
Brands - While Brands are a dime a dozen these days, not all give the owner the ability to price at a premium. While Coca Cola may be able to charge a fortune for sugared water, French Connection can't charge a premium for its bargain bucket fashions. Be careful and pick only premium brands.
Patents - think Viagra while…

Unlock the rest of this article with a 14 day trial
Already have an account?
Login here