The Case for Gold
The Case for Gold
Like with any investment and argument for allocating to Gold is driven by a mixture of fundamentals, sentiment and positioning.


Fundamentals
Gold is ultimately viewed as a Safe Haven or Inflation Hedge , the reasons being the store of value that it provides in times of inflation. This can be seen by it's relationships with real yields*. Quite simply as real yields trend lower and more negative, Gold increases; as seen in the below chart.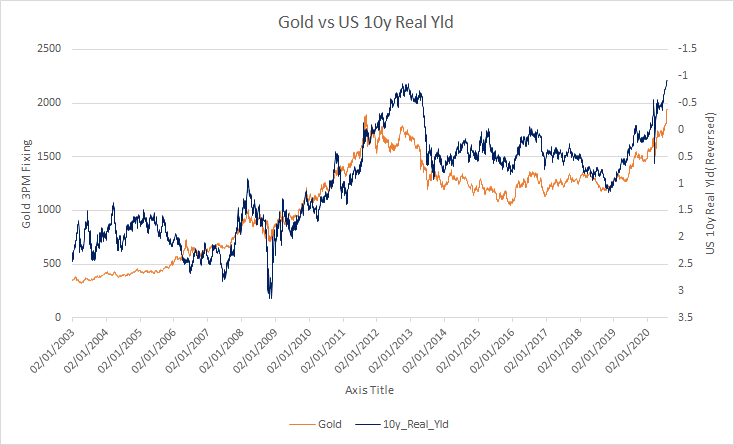 Therefore the direction of travel of Gold is intertwined with inflation expectations and yields. For a more detailed discussion/ hypothesis on the potential for higher inflation please see the below link for an interview with Russell Napier.
https://themarket.ch/interview/russell-napier-central-banks-have-become-irrelevant-ld.2323
Positioning (Institutions)
At the time of Gold's last all-time high in 2012 Institutional Assets Under Management (AuM) was approximately 64 trillion and is estimated to be 111 trillion in 2020. Therefore, there is roughly 75% more assets that will like increasing its allocation to Gold and related derivatives.
In the first 6 months approximately 40bn of inflows to Gold ETFs, there is considerable potential for more (higher) institutional flows to Gold.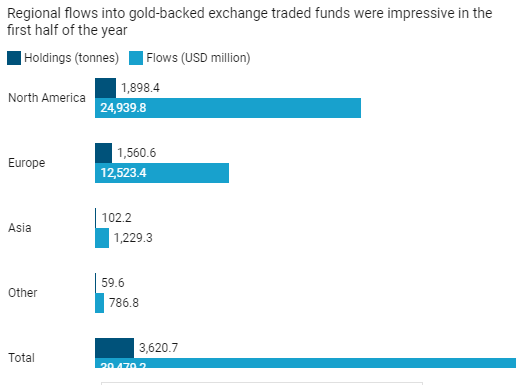 Gold and Miners
Ceteris paribus the beta of Gold Miners to Gold is driven by their respective operational leverage, best seen in the simple model below.
Roughly speaking for the average miner a 30% increase in Gold should equate to a 90% increase in the share price (obviously there are the different factors at play, miner specific AISC also lower production due to Covid being a headwind for some miners)
| | | |
| --- | --- | --- |
| | 31/12/2019 | 31/07/2020 |
| Gold | 1515 | 1975 |
| AISC | 1000 | 1000 |
| Op_Profit_Oz | 515 | 975 |
| Gold_YtD% | | 30.4% |
| Miner_YtD%_Model | | 89.3% |
The above might serve as a useful metric to filter on "value" plays or "momentum" depending on your investing style.

For those interested there are specific…

Unlock the rest of this article with a 14 day trial
Already have an account?
Login here