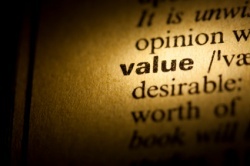 In investing circles, value and growth are often juxtaposed as distinct investment strategies. Arguably, though, this distinction is artificial – after all, for many investors, the attributes of value and growth go hand-in-hand when it comes to selecting stocks. Warren Buffett put the point succinctly in his letter to shareholders of Berkshire Hathaway Inc back in 2000: 
Market commentators and investment managers who glibly refer to "growth" and "value" styles as contrasting approaches to investment are displaying their ignorance, not their sophistication. Growth is simply a component – usually a plus, sometimes a minus – in the value equation. 
Still, what about that value equation? Regardless of an investor's overall approach, understanding why value investing has been so successful is an essential part of the investment toolkit – even when seeking out tomorrow's growth stars. 
Origins of Value Investing 
Celebrated investment strategist Benjamin Graham – and Buffett's tutor at Colombia – is widely regarded as the "father of value investing" not least because of the influence of his published works, which he began penning in the 1930s. As the original 'quant' on Wall Street, Graham aimed to invest purely on the basis of the undervaluation of stocks, seeking protection from individual bankruptcy by introducing a Margin of Safety and diversifying his portfolio. Graham insisted that purchases should be attractively priced as established by intelligent analysis. He was an early proponent of using the price-to-earnings ratio as a measure of doing this but his fundamental analysis stretched way beyond P/E. His strategies aimed to identify a company's intrinsic, or "true" value, build in a Margin of Safety to insulate from potential failure, and then buy at a moment when the market was under-pricing it. 
Academic Wrong Turn 
While Graham's work (and impressive investment returns!) has inspired a whole generation of investors, including Warren Buffett, value investing has not been as widely adopted as one might expect. The blame for this seems to lie squarely at the feet of the Efficient Market Hypothesis which Shiller has called "one of the most remarkable errors in the history of economic thought". 
First proposed in University of Chicago professor Eugene Fama's 1970 paper, EMH has evolved into the notion (or even religion!) that a stock price reflects all available information in the market, making it impossible to have an edge. There…

Unlock this article instantly by logging into your account
Don't have an account? Register for free and we'll get out your way
Disclaimer:
As per our Terms of Use, Stockopedia is a financial news & data site, discussion forum and content aggregator. Our site should be used for educational & informational purposes only. We do not provide investment advice, recommendations or views as to whether an investment or strategy is suited to the investment needs of a specific individual. You should make your own decisions and seek independent professional advice before doing so. Remember: Shares can go down as well as up. Past performance is not a guide to future performance & investors may not get back the amount invested. ?>
---
---