The Gurus: does Institutional Ownership matter?
In the last half century, institutional investors have been playing an increasingly significant role in the equity markets. Total US institutional equity holdings rose from $8.7 billion in 1950 (6.1%) to a stunning $1,432.9 billion (40.6%) by 1990.
In the UK, the share held by individual investors has shrunk from 54% in 1963 to just 10.7% in 2012, reflecting the ever-growing dominance of institutional money. 
Due to their sheer size, institutional investors often move markets. Famous momentum investor William J. O'Neill describes these institutional investors as being "as obvious as the elephant that jumps into the bathtub and splatters water all over the place". When they get in or out of a stock, they can send huge ripples through the markets.
Hunting for Elephants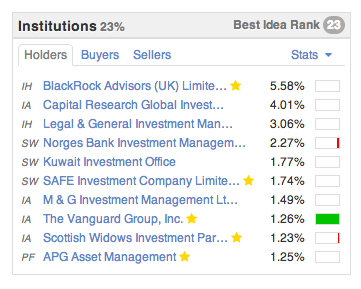 So how do individual investors best screen for their presence? Institutional ownership (IO) is the percentage of a stock's float owned by institutions such as unit trusts / mutual funds, pension funds, endowments, hedge funds or other large investors. Most well-known stocks - e.g. household names like BP or Shell - would have at least 25% institutional ownership. Stockopedia's forthcoming Ownership Module allows you to filter the market for high, low, increasing or decreasing IO. 
The reason why individual investors often like to track this metric is because they view institutions as the "smart money". The basic thinking is that, because these managers get paid to pick stocks, screening for stocks with high levels of institutional 'sponsorship' might give us the inside track on the stocks that the experts like as well as helping us assess the weight of money behind a given stock.

While it is true that these investors can afford research teams and experienced managers, as we've discussed, naive faith in "experts" is generally a bad idea - the professional fund management industry also shows a lot of evidence of institutionally bad decision making, herd behaviour and skewed incentives. So is it a good idea or not to pay attention to their choices?
Following the Money...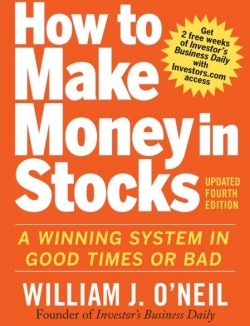 William J. O'Neill, who we model here, therefore recognised the important of institutional ownership in his book "How to Make Money in Stocks" (which incidentally is a must read). It's the "I" in his renowned CAN-SLIM formula. Without institutional backing,…

Unlock the rest of this Article in 15 seconds
Already have an account?
Login here