The Hunt for Income - bond beating yields in funds and stocks
With short-term bank deposit accounts now offering well under 2% interest, and even loaning money to the UK government for 10 years (via Gilts) only garnering a meagre 2.7%, a lot of savers and investors will be wondering where they can put their money for a better income stream. 
Look to Corporate bonds?
The first obvious port of call could be sterling investment-grade corporate bonds, which offer a 3.8% yield at present, a 1.8% improvement on the yield offered by UK 5-year gilts (Figure 1).  
1. UK Corporate Bonds Offer 3.8% Yield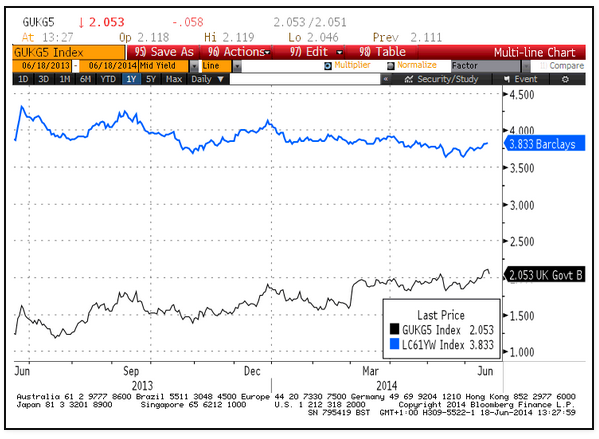 Source: Bloomberg
The easiest investment vehicle for this would be an ETF like the Core £ Corporate Bond UCITS ETF (code: SLXX), which charges just 0.2% per year in management fees for this bond exposure and yields 3.5% net of fees. 
What about income funds? 
A second possibility would be an income fund of some description, which could potentially yield as much or more than UK corporate bonds, but which can also include some element of dividend growth going forwards.
 An interesting income proposition in the investment trust world could be the income shares of the JPMorgan Income & Growth investment trust(code: JIGI), which invests in blue-chip income stocks. This split-capital trust is due to wind up at the end of November 2016, at which point investors will receive the net asset value per share of the fund less winding-up costs. 
At the moment, these income shares trade at a 8.4% discount to the final Redemption Price of 103.4p, while offering a generous 4.7% dividend yield. If the NAV was to remain at its current level at wind-up date, then income share investors stand to receive 9.9p in cumulative dividends between now and then, plus another 8.6p from the closing of the gap to the redemption value, i.e. 18.5p in total on a 94.75p share price, or nearly 20% return over the next 2.5 years, roughly an 8% annualised return with good visibility. 
Otherwise, an dividend income-focused ETF like the iShares UK Dividend UCITS ETF (code: IUKD) could be an option, offering a 4.0% dividend yield from a dividend-weighted portfolio of UK large-cap stocks including SSE, Imperial Tobacco and BP.
Both of these fund choices would give you a one-stop equity fund offering a yield above the 3.5% from the UK corporate bond ETF. 
Choosing Bond-Beating Income Stocks
The third option is to make…

Unlock the rest of this Article in 15 seconds
Already have an account?
Login here