The SIF Folio unpicked: What I do and why I do it
Since launching the SIF folio in April 2016, I've added 64 stocks to my Stock in Focus fantasy fund, sold 45 of them, and written 118 weekly columns.

The value of the fund has risen by 41% plus dividends over the last two years. This compares fairly well to a gain of 13% plus dividends for the benchmark FTSE All-Share index: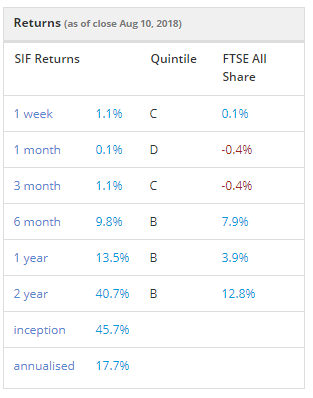 SIF is certainly not the best-performing Fantasy Fund on Stockopedia. But what it does offer is a clear set of rules for selecting stocks, a high level of documentation, and as much transparency as I can manage.
Every trading decision I make is documented in my weekly articles. And the screen I use to select stocks is also available for other community members to view and adapt (the Stock in Focus screen is here).
For the last 16 months, I've also been buying each new stock selection for my personal holdings. So the SIF fund manager has some skin in the game too!
---
Shares Awards: If you'd like to help support Stockopedia, you can vote for us in 'Best Investment Software Programme' (Category 15) and 'Best Customer Service' (Category 7) at the Shares Awards. Here's the link.

Don't lose money
When I started the SIF portfolio, my goal was to develop a set of rules that would select affordable growth stocks with good fundamentals. I wanted to avoid stocks that needed a lot of individual research, such as special situations and pure growth plays.
At the core of my thinking was Warren Buffett's first rule of investing: don't lose money.
The idea was that by avoiding big losers, I'd be able to beat the market without needing to take too much risk.
This may sound boring, but it has worked well so far. The 45 stocks I've bought and sold since April 2016 have delivered an average annualised total return of 31% (including dividends and costs). However, I'm painfully aware that my system has yet to be tested in a bear market.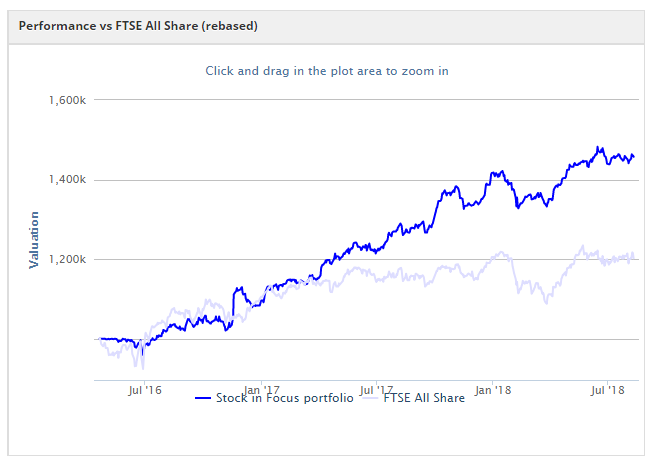 How my rules work
I've received a number of questions about the rules I use in my screen (which you can see here). So I'm going to include these in full, and spend a little…

Unlock this Article with a 14 day free trial
Already have an account?
Login here