The Superinvestors of Graham-and-Doddsville: Bill Ruane
"Table 4 [below] shows the record of the Sequoia Fund, which is managed by a man whom I met in 1951 in Ben Graham's class, Bill Ruane. After getting out of Harvard Business School, he went to Wall Street. Then he realized that he needed to get a real business education so he came up to take Ben's course at Columbia, where we met in early 1951…" -- Warren Buffett's introduction to Bill Ruane in his essay: The Superinvestors of Graham-and-Doddsville.
This is the third part of a six part series on Warren Buffett's essay, The Superinvestors of Graham-and-Doddsville. You can find the first and second parts of the series here and here. Buffett's essay was a homage to the value investing philosophy of Benjamin Graham. It referenced seven of Graham's former employees who went on to become some of the greatest investors of all time. Number three on the list was a man called Bill Ruane.
The Sequoia Fund
At the time of winding down his early investment partnerships, Buffett asked his friend Bill Ruane to set up the Sequoia Fund to ensure that the partners would have their money well looked after.
Buffett didn't just pick Ruane's name out a hat. He chose him because he was taught by and worked with Ben Graham. And since leaving the Graham-Newman partnership, Ruane's performance had put many other asset managers to shame.
Buffett said: "There's no hindsight involved here. Bill was the only person I recommended to my partners, and I said at the time that if he achieved a four-point-per-annum advantage over the Standard & Poor's, that would be a solid performance. Bill has achieved well over that, working with progressively larger sums of money…"
During its first 14 years of operation -- from 1970 to 1984 -- The Sequoia Fund outperformed the S&P 500 by an average of 8.2% per annum: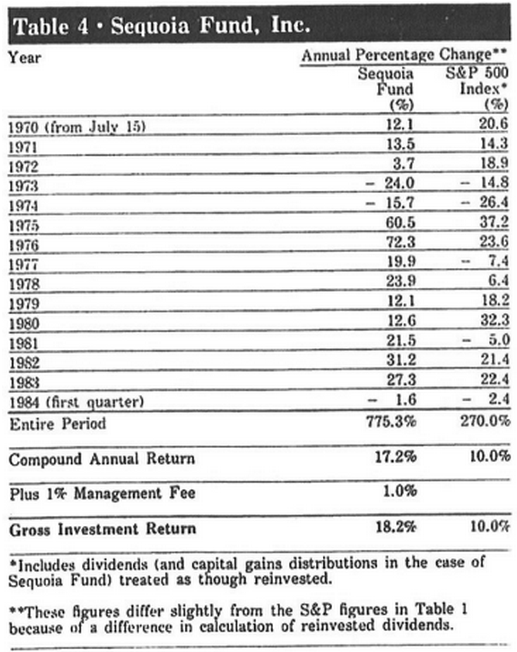 Unlike Buffett's other 'Superinvestors', Ruane didn't select small and micro-cap deep-value stocks for his portfolio. Instead, he looked in the large-cap section of the market.
There are many reasons for focusing on the small and micro-caps. The most common is the fact that many smaller stocks can fly under the radar of other investors and high-flying Wall Street hedge funds. And when a stock is not well-known, it's often the case that the market is undervaluing the company.
Take, for example, Special…

Unlock the rest of this article with a 14 day trial
Already have an account?
Login here