The Superinvestors of Graham-and-Doddsville: Tweedy, Browne
This is the second part of a six part series on Warren Buffett's famous essay, The Superinvestors of Graham-and-Doddsville, in which he reiterated the principles of value investing. You can find the first part here.
Buffett started writing his essay with one thing in mind. He believed that the market was inefficient and wanted to prove that value investing was the key to long-term wealth creation. This is clear in his introduction:

"Is the Graham Dodd "look for values with a significant margin of safety relative to prices" approach to security analysis out of date? Many of the professors who write textbooks today say "yes". They argue that the stock market is efficient; that is that stock prices reflect everything that is known about a company's prospects and the state of the economy…

"Well, maybe. But I want to present to you a group of investors who have, year in and year out, beaten the Standard & Poor's 500 stock index…" - Warren Buffett's introduction to his essay: The Superinvestors of Graham-and-Doddsville.
The Superinvestors are seven former employees of Benjamin Graham, the father of value investing. The top spot on the list of 'Superinvestors' went to Walter Schloss and the second position went to a man called Tom Knapp.
Tweedy, Browne
Tom Knapp went to work with Ben Graham after World War Two and in 1968 he partnered with Ed Anderson, another Graham disciple, who at the time was working at Warren Buffett's broker Tweedy, Browne Partners. Knapp turned Tweedy from a standard brokerage firm into an investment partnership that is still in operation today: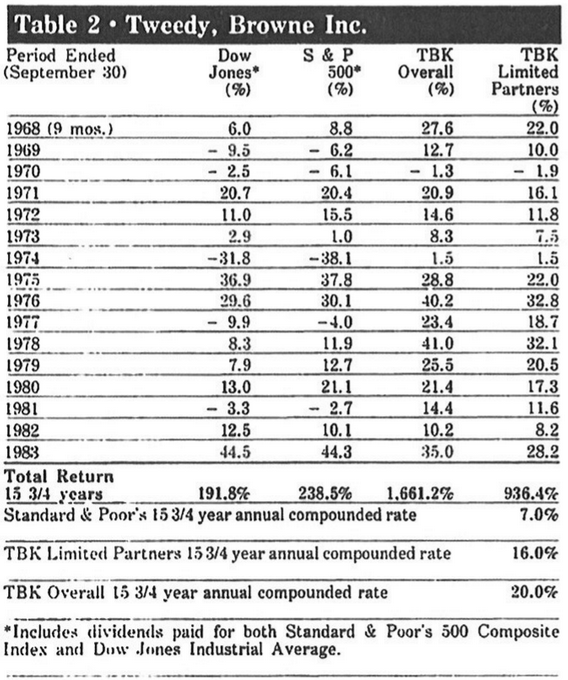 Ed Anderson passed away on February 9, 2012 at the age of 83. In its 90 year history, Tweedy has only employed seven managing directors, excluding the four currently active. With $8.7 billion of assets under management, the Global Value Fund is the largest of Tweedy, Browne's funds and it uses a "Ben Graham" value-oriented approach investing.

But unlike Walter Schloss, who has had a wealth of information published about him, it's difficult to find resources detailing the investment philosophy of Tom Knapp and Ed Anderson.

However, Tweedy, Browne still follows the same principles as it has done since its inception and the holdings of the firm's Global Value Fund give a great idea of where these super investors would have put their cash in today's…

Unlock the rest of this article with a 14 day trial
Already have an account?
Login here