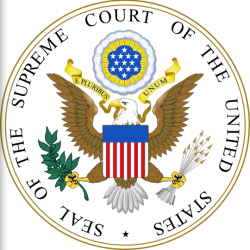 Back to the Future
As you'll know the Psy-Fi Blog spends a lot of time pointing out to a (largely disinterested) audience of investors that there's a huge amount of psychological research out there that we can use to guide our investing behavior. In fact there are vast reams of the stuff, far too much for me to ever even summarize, let alone analyse. But as we saw in Behavioral Law and Disorder[1] the Supreme Court, like most investors, has failed to take account of this by requiring investment professionals to benchmark themselves against the Efficient Markets Hypothesis, a failed meme if there ever was one.
Well, no more. The Supreme Court of the United States (aka SCOTUS) has donned kipper ties and white suits and boogied into the late-mid-twentieth century with a ruling that markets can no longer be regarded as entirely efficient. Somewhat surprisingly, however, the justices have based their findings not on the wealth of research that's accumulated over half a century but on an op-ed piece in the New York Times. It makes you wonder why you bother.
Junk Theory
Earlier this year the Nobel Prize for Economics was shared between three illustrious economists - Eugene Fama, Lars Peter Hansen and Robert Shiller - for "their empirical analysis of asset prices". What makes this slightly odd is that Fama is one of the architects of efficient markets theory while Shiller is a behavioral economist who's spent most of his career politely pointing out that the theory is junk. Admittedly he doesn't quite put it like that, but it's clearly the crux of his argument.
Anyway, a number of commentators have pointed out that this was a bit of an odd choice by the Nobel committee, but the committee members are all quite old and it's a nice prize and a lot of money so everyone's generally been quite cool about it. That was up until Shiller wrote his NYT piece, Sharing Nobel Honors, and Agreeing to Disagree[2]. The broad thrust is that his work in behavioral economics and Fama's on efficient markets isn't compatible, and if you believe both you probably believe in other economic fictions like the ideas that central bankers know what they're doing and investment analysts can predict the future:
"Market prices are esteemed as if they were…

Unlock this article instantly by logging into your account
Don't have an account? Register for free and we'll get out your way
Disclaimer:
As per our Terms of Use, Stockopedia is a financial news & data site, discussion forum and content aggregator. Our site should be used for educational & informational purposes only. We do not provide investment advice, recommendations or views as to whether an investment or strategy is suited to the investment needs of a specific individual. You should make your own decisions and seek independent professional advice before doing so. The author may own shares in any companies discussed, all opinions are his/her own & are general/impersonal. Remember: Shares can go down as well as up. Past performance is not a guide to future performance & investors may not get back the amount invested.
---
---