The Volex rerating: from recovery play to growth stock?
Volex (LON:VLX) is a 127-year-old cable and wiring company five years into a financial turnaround and strategy shift. Its legacy business deals in commodity-like cabling - a thankless task that led the group into trouble a couple of years ago - but its growing Cable Assemblies division offers higher margin products. This is where investors are seeing an opportunity.
The group says it is benefitting from a growing reputation of quality and customer care in its end markets. This shift in emphasis could transform the market's perception of Volex - in fact, it appears as though this is already happening: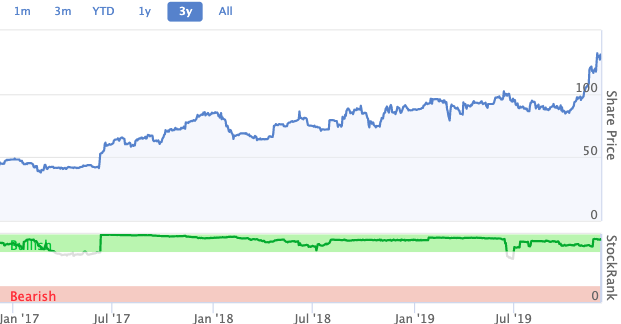 What we have here is an evolving investment case. Is the market scrabbling to play catch up?
The story goes that Volex is evolving from a recovery stock into a growth stock with a renewed focus on cash generative and higher margin business. With no debt and a more diverse customer base, the company is also considerably less risky than it was. It has even resumed dividend payments. The recent rerating is understandable.
But at just 0.5 times forecast sales and qualifying for two market-beating screens (one growth, one momentum) does Volex have further to run?
No sign of a moat...
I had wondered if Volex's new strategy might spell the beginnings of an economic moat, but I don't think this is the case. Volex certainly hasn't had a moat in the past - that's a part of why it ran into such big problems a couple of years ago.
There is potential, though, if it can develop value-added products and processes that are backed up by patents (Volex attributes about $1m of value to acquired patents).
What Volex is right now is a turnaround stock with a strengthened balance sheet that is moving (partly via acquisition) into higher margin, fragmented markets. There is execution risk in this, and, while the company can certainly grow, the question is whether it can grow profitably. Given its history of vending commodity-like products, this is a key concern.
Volex supplies some high growth markets such as electric vehicles and data centres, which both require complex cable solutions. This could be a significant source of growth going forwards, but will these areas in time also become commodified? And will the company need to continue investing large amounts of capital to meet the changing…

Unlock the rest of this article with a 14 day trial
Already have an account?
Login here