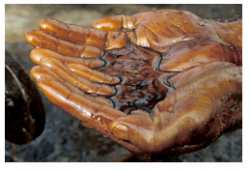 Tower Resources (LON:TRP) , the AIM listed oil and gas exploration company with interests principally in Uganda and Namibia, is about to embark on a third exploration period within Block 5 of the Ugandan Albertine Basin and the eagerly anticipated 3D seismic study in Namibia.
To date, Tower Resources through its subsidiary Neptune have drilled two wells located in Uganda's Exploration Area 5 (EA5). Both wells were a major disappointment to its shareholders by not proving a commercial find but they have increased significantly Tower's understanding of the basin and its complex geology. The main encouragement from the two wells is that they have significantly de-risked the area in terms of generation and migration of oil.  Along with surface seeps within EA5, the first well named lti-1was appraised to have the potential to contain oil in a 15-20m interval within a 35m gross basal sandstone reservoir located on the basement. [1]   The results of the second well, Avivi-1, are believed to contain a composition of thick sequences of organic rich sediments similar to that previously encountered within the area. [2]   
With the indicators to date suggesting that the oil migration in the area is deviating from mature source rocks in the deeper areas of the basin, the first priority for Tower within the forward programme will be to increase its seismic coverage and geographical appraisal of EA5, for an improved chance of hitting the sweet spot next time around.  The major achievement for Tower has been proving evidence that oil generation has been found within the exploration area which has generated third party interest for participation in the extended period, with most of the funding likely to come from the project partners. [2]  Following the Avivi-1 Peter Kingston, Tower's Executive Chairman commented:
The Tower Board has had no hesitation in deciding to continue with its exploration programme in Uganda for another two years. In particular, it is pleased that there is growing evidence of the presence of mature oil in the EA5 Licence. This is typical exploration progress, with valuable information being gained from each phase of activity which suggests that there is still everything to play for. The Board is also encouraged that exploration in Namibia is moving closer to well drilling programmes and the ultimate test of exploration potential in the area.
The Namibia prospect…

Unlock this article instantly by logging into your account
Don't have an account? Register for free and we'll get out your way
Disclaimer:
This content has been created for information purposes only, and is NOT, in any way, a recommendation to invest.  This communication is a snapshot of a certain aspect of a discussed business at a moment in time, and is merely a basic starting point for research.  The article/thread has been created with honesty and integrity in mind and is based on publically available information sourced in relation to the title, such as from, RNS announcements, published reports, management comments, analyst reports, media coverage etc.  To this extent the author who has written the piece in good faith accepts no liability for the accuracy of the information and urges all readers to verify the content independently.  Please note that the value of investments may fall or rise and you may not get back the amount originally invested, or in some cases your investment may be wiped off altogether.  When investing, bear in mind that past performance is not a guide to future performance and that qualified independent financial advice should be sought before buying or selling shares.  The Author of this article may hold shares in the companies discussed.
---
---

Tower Resources plc is an upstream oil and gas exploration company. The Company has exploration projects in Cameroon, South Africa, Zambia, and Sahawari Arab Democratic Republic (SADR). The Company has two segments: Africa and Head Office. The Company is an operator of international licenses with a focus on projects in Africa. It holds an interest in Thali Production Sharing Contract (PSC) in Cameroon, which covers an area of approximately 120 square kilometers (kms) and lies in the prolific Rio del Rey basin, in the eastern part of the Niger Delta. It holds an interest in Algoa-Gamtoos license, South Africa, which covers an area of approximately 11,800 square kms. It also holds an interest in the offshore Guelta and Imlili blocks, and the onshore Bojador block in the SADR, which covers an area of approximately 72,700 square kms. It has interests in blocks 40 and 41 of the frontier Zambezi Basin, which covers an area of approximately 6,950 square kms. The Company has no revenues. more »

LSE Price

Chariot Oil & Gas Limited is an oil and gas exploration company. The Company has two reportable segments: exploration for oil and gas, and corporate costs. The Company has interests in approximately two licenses offshore Morocco; Rabat Deep (approximately 50% (operator), 25% Woodside, 25% Office National des Hydrocarbures et des Mines (ONHYM) (carried interest), and Mohammedia (approximately 75% Chariot (operator), 25% ONHYM (carried interest)). The Company holds approximately 55% and operatorship in the C-19 license offshore Mauritania. The Company holds approximately 100% interest of licenses BAR-M-292, 293, 313 and 314. The Company has interests in approximately three licenses covering over four blocks offshore Namibia. The Company's subsidiaries include Chariot Oil & Gas Investments (Mauritania) Limited, Chariot Oil & Gas Investments (Morocco) Limited, Chariot Brasil Petroleo e Gas Ltda and Chariot Oil & Gas Investments (Morocco) Limited. more »

LSE Price