Three reasons you should invest in Oil companies despite Doha failure
The 17 April meeting of Opec and Russian oil ministers in Doha, Qatar ended without the long-awaited agreement to freeze crude oil output.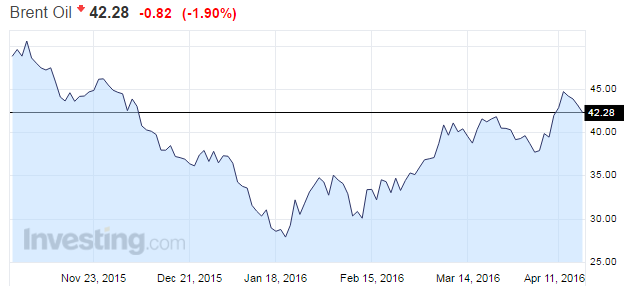 1. Brent crude oil price falls following Doha non-agreementinvesting.com
Apparently Saudi Arabia, by far the largest oil producer inOpec, refused to agree to freeze oil production volumes without cooperation from its regional political foe, Iran.
Unsurprisingly, the oil price has fallen back on this non-agreement announcement. But so far, at over $42 per barrel, the benchmark Brent crude oil price remains around 40% above its mid-January low of under $30 (Chart 1).
End of the road for oil companies? Don't be so quick
Many analysts have predicted that this is now the end of the road for the current rally in oil prices. But I would not be so sure. Yes, in the very short-term this will no doubt dampen investors' enthusiasm for the black gold. But we should perhaps also take account of a number of key facts.
1. World oil supply is already falling even without an agreement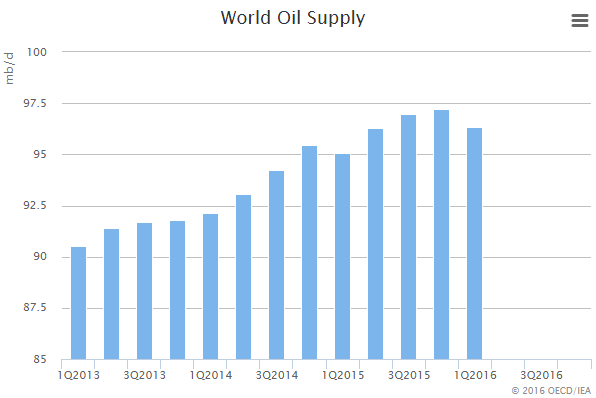 2. Global supply of oil is already fallingIEA
Over the first quarter of this year, global daily oil supply was some 96.35m barrels of oil per day. This is nearly 1m barrels below the Q4 2015 average of 97.23m barrels per day. So oil supply is already falling.
This decline is largely due to falls in production outside the Opec nations, most notable from lower onshore shale oil production in the US as lower oil prices have forced oil companies to cut back on investment on new oil wells.
Even without a freeze in oil production by the Opec nations, global oil production should continue to fall further, as it is still simply not economical in most countries to drill new oil wells at the current $40-odd oil price.
2. Even Opec oil production fell in March
Interestingly, even without an agreement on freezing oil production, Opec oil production actually fell by 90,000 barrels per day in March as interruptions to oil production in Nigeria, the United Arab Emirates and Iraq more than offset increases from Iran (post-sanctions).
3. Global oil demand…

Unlock the rest of this Article in 15 seconds